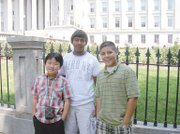 Carl Sandburg Middle School has been buzzing this summer. It started last school year when students, volunteers, and staff began rehabilitating an inner courtyard with vegetable gardens, wildflowers, butterfly houses, and ponds. In response to their efforts, the White House invited them to see the First Lady's Garden on July 28.
Thirty-five Sandburg students toured the gardens and the onions, peppers, lettuce, and tomatoes that feed the Obama family. In addition, students learned about the benefits of healthy eating to prevent obesity, high blood pressure, and diabetes, among other diseases. The same message was brought to Carl Sandburg's campus in the fall with the launch of the Inner Courtyard. In addition to learning how to eat healthy and seeing where the food comes from, students will also participate in curriculum-oriented experiments generated in their seventh grade Life Science classroom and their eighth grade Physical Science classroom.
The courtyard is an 100 square feet by 100 square feet enclosed area. Within those grounds, the students will harvest 29 vegetable gardens and help maintain a native species garden, a butterfly garden, tulips, and tall grasses as well as two ponds, complete with fish, turtles and waterfalls. Students will harvest red worms for compost and learn about the carbon and nitrogen cycles through hands-on activities in the courtyard. Students studying first ladies will learn about Michelle Obama's garden as well and Lady Bird Johnson's native species remediation gardens and Eleanor Roosevelt's victory gardens. Art classes will be adding mosaic bird baths and use the grounds for inspiration in water colors and sculptures.
Carl Sandburg's Parent Teacher Association, students, and volunteers has been the backbone behind the project. The PTA has funded the project while the students and parental and staff volunteers have worked to make continual improvements. With all of this momentum from the summer, Carl Sandburg will hold a volunteer day on Wednesday, Aug. 19 and also a grand opening ceremony on Saturday, Sept. 12. The grand opening ceremony will have activities for students, pictures of the White House event, and serve as a fundraiser for the new year. If interested in attending or volunteering, contact Tory Karg at victoria.karg@fcps.edu or 703/799-6100.