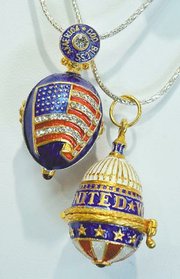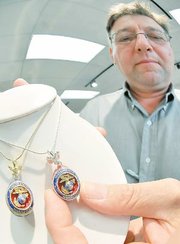 Faberge egg-maker Ilya Abelsky stopped at King Street's B&C Jewelers last week to showcase his newest collection of patriotic eggs. The featured pieces were created in tribute to the Marine Corps, the first branch of U.S. military Abelsky is honoring in a line of eggs he created to highlight the military's sacrifice to the nation.
Russian-born Abelsky says he was inspired to create his newest line after becoming a U.S. citizen in the wake of Sept. 11. The craftsman also says he started with the Marine branch because they are typically called upon first for duty — a responsibility former Marine and B&C storeowner Nolan Forness can relate to.
"The Marines see their duty as a career," said Abelsky.
The craftsman traveled north from his hometown of Atlanta to visit the Marine Corps museum in Quantico and stop in Alexandria. B&C, which is celebrating its 56th year as an independent business in the Bradlee Shopping Center this month, has sold Abelsky's line for years with the intention of separating from mainstream jewelry products. Forness acknowledges the amount of attention the eggs receive from customers who appreciate their rare form.
"The customers love them for how delicate they seem but how tough they really are," said Forness.
Every egg is crafted by hand so that no two are exactly alike. Abelsky made his trip to continue public education about Faberge — a trade he associates with art more than jewelry. Through his investment in the craft, Abelsky simply wants to share his appreciation for the detailed work specific to Faberge. B&C sells the eggs from $90 to $450, but the designer says he doesn't mind if customers simply come to see his art without making a purchase. To Abelsky, the eggs' artistic value is one of a kind.
"They're all priceless," he said.