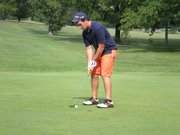 Golf is jokingly referred to as a "good walk spoiled," and West Springfield High's Scott Lopez might agree with that after his season-opening round on Monday, Aug. 17 at Greendale Golf Club in Alexandria.
Lopez sliced his first tee shot into a patch of woods, eliciting a frustrated look on his face as he tried to keep it in his sight.
Wandering through the woods with the aid of two other players, he finally admitted defeat to his lost ball and took a penalty stroke.
He dropped another ball down, refocused and then sent his second shot into a branch just a few feet away.
"You've got to be kidding me," the senior golfer said.
Lopez walked the short distance to his ball and took his fourth shot on the par-4, barely halfway down the narrow fairway.
The first hole foreshadowed how the rest of the day would pan out for Lopez.
"My first shot was kind of what I wanted to do, but then it went far right," Lopez said. "Nothing seemed to go right after that."
WITH THE season opening against Lake Braddock Secondary and Annandale High in a tri-match, Lopez knew this wasn't the start he had in mind.
"I felt like there was a lot of pressure," Lopez said. "It was just mentally tough. I felt a lot of leadership since I'm a senior. I wanted to show the younger guys I could perform."
Lopez finished the course with a score of 43 in the nine-hole round, but he did manage to turn his game around, giving a glimpse of his usual talents with a birdie on hole seven and par on hole eight.
"I kept thinking about how I'm a lot better than this," he said. "I just tried to tighten up and play like I normally play."
Greendale Golf Club isn't the longest course in the area, but Rachael Malenach, West Springfield's golf coach, said it's a tricky course for a variety of reasons.
"The tee shots are very tight, the greens are slow. It's just very challenging," she said. "One example is how the first hole lines up with the woods. Sometimes golfers don't think to line themselves up properly with the fairway."
Despite the less-than-ideal day from her top golfer, Malenach was pleased by the team's overall performance.
"I'm very proud of my players," she said. "It was their first match, and I can't ask for more than their best. Their course management is getting better, we could use improvement in putting, but they're getting better."
West Springfield defeated Annandale 156-172, but a tiebreaker was used to determine a winner against Lake Braddock. Lopez's score (43) and Lake Braddock's Kenny Towns' score (42) were used to determine the winner, giving Lake Braddock the win by one stroke.
"In the high school matches, you take the top four scores out of six," said Karl Kerns, Lake Braddock's golf coach. "We were tied after four scores so we took the fifth-best scores."
West Springfield's top golfer was Matt Spooner, who shot a 38 and tied Lake Braddock's No. 3 golfer, junior Justin Burns, for the top individual score.
"I just kind of scrambled out there," said Spooner, a sophomore. "I made a chip-in on the ninth hole, but I wasn't making a lot of great shots."
Even though Spooner didn't feel like he had the best day on the course, his coach was pleased with the result.
"He didn't give up," Malenach said. "I saw him on hole six and he didn't look happy, but he got through it."
Though Lake Braddock pulled out the win over West Springfield, ace golfer junior Kenny Towns found himself alongside West Springfield's Lopez in frustration.
Towns' booming drive was on display, but mishaps near the end of the course and putts affected by the slow greens kept his score higher than normal.
"I chucked two balls in the water, and I just never recovered from that," he said. "At the Cougar Classic [last week in Chantilly], the putting saved me, but today, I just didn't putt very well at all."
With the season starting at 1-1, Malenach knows there is room for improvement, but she is looking forward to facing off with Lake Braddock again.
"We still need some improvement, but I'm very proud of my players," Malenach said. "We see Lake Braddock again in the Patriot Preview, so that should be a good challenge