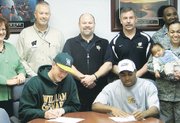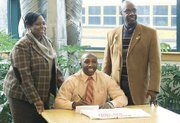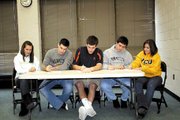 <b>Jukich Named All-State</b>
Centreville graduate Emily Jukich, now a junior forward on the Virginia Tech women's soccer team, was named first team All-State by the Virginia State Sports Information Directors Association (VaSID) on Wednesday, Jan. 28. In addition to earning second team All-Mid Atlantic honors, Jukich was also a second-team All-Atlantic Coast Conference pick this season. She led the Virginia Tech with 15 goals — the second-best such mark in school history and her 31 points had her fourth in the ACC. Jukich is now Virginia Tech's all-time leading scorer with 25 goals and ranks fourth with 52 career points. At Centreville, the Clifton native notched 72 goals and 37 assists, leading the Wildcats to three Concorde District titles and one Northern Region crown.
<b>Hubbard a Quick Study</b>
As a true freshman, Westfield graduate Maurice Hubbard has averaged 16 minutes per game for the Ball State men's basketball team this season. Making four starts and playing in 18 of the Cardinals' 19 games, the 6-foot-6 forward is averaging 2.5 points and 3.6 rebounds per contest. The Cardinals improved to 10-9 overall, 5-2 in the Mid-American Conference with a 51-44 home win over Ohio this past Saturday and traveled to face Miami (OH) on Wednesday night after this edition went to press. As of Wednesday morning, Hubbard's 64 rebounds ranked fourth on the team and his .6 steals-per-game and 1.0 assist-per-game averages were fourth on the team. At Westfield, Hubbard scored more than 1,400 points and led the Bulldogs to a pair of Concorde District championships.
<b>Boys Youth Lacrosse Tryouts</b>
Generals Lacrosse Club is a travel boys lacrosse club that participates in the highly competitive National Premier Youth Lacrosse League (NPYLL). The organization is looking for a few select U-11, U-13 and U-15 players for the upcoming season, which runs from March until June. For more information, contact Mike Washer at 703-980-8873 or visit www.genlax.com.
<b>Some Three-on-Three?</b>
The Fairfax County Department of Community and Recreation Services will hold a three-on-three basketball tournament on Saturday, Feb. 21 from 6-10 p.m. at Mott Community Center, located at 12111 Braddock Road in Fairfax. The tournament is open to all adult basketball teams and will consist of a single- or double-elimination format depending on how many teams sign up. Co-ed teams are encouraged. Each game will have one official, and the championship team will win a trophy; other prizes will be offered as well. The fee for entry is $25 and for more information contact the Department of Community and Recreation Services at 703-278-8605.