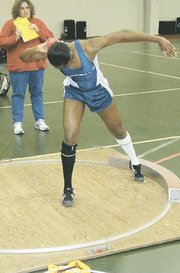 Kimsue Grant had just completed her last throw of the shot put competition during last week's National District indoor track championships. It was a disappointing attempt that did not travel nearly far enough for the Washington-Lee star's liking.
"I'm going to have to practice this if I'm going to do it at regionals," said Grant as she turned towards her coaches.
If practice really does make perfect, then the rest of the Northern region better be afraid after last week's two-day event that took place at the Episcopal Field House in Alexandria and the Thomas Jefferson Rec Center in Arlington. The shot put is probably Grant's weakest event, and after proving herself to be the best athlete in the National District, anything more is hard to fathom.
Grant led the W-L girl's indoor track team to an impressive second-place finish of the team competition at last week's two-day event, accounting for a whopping 60 of the Generals 85 points. She finished in first place in the long jump, high jump, and triple jump — all of which went along nicely with her second-place finishes in the 55-meter dash, 4x200-meter relay, and 300-meter dash and third-place showing in the aforementioned shot put.
"She could definitely be someone's heptathlon athlete in college," said eighth-year W-L coach Warren Gillus of his senior star. "She's one of the best to come through Washington-Lee, that's not a question."
<b>ORIGINALLY FROM JAMAICA</b>, Grant came to W-L last year almost unbeknownst to Gillus or the rest of his team. On the first day of school last year, Gillus heard from director of student activities Carol Calloway that there was a new girl in the office that "looked like a runner."
Grant made an instant impact on the team, cementing herself as the best girl athlete almost immediately thanks to a wealth of prior experience.
"Track in Jamaica is a lot harder," said Grant. "Everyone here loves basketball, but back in Jamaica everyone wants to do track. You just can't avoid it and that's when I started doing it."
Grant's strongest event is the triple jump, one of the most technical skills in track and field, with competitors combining running, skipping, and leaping into a single fluid motion. Grant's jump of 35-feet, nine inches was almost four feet longer than that of the second-place finisher last week.
Last year, Grant qualified for states in the triple jump, but did not compete due to shin splints. This season, she has already qualified in the high jump and it appears likely that — barring something unforeseen at this weekend's Northern Regional championships — she will also compete in the triple jump and 55-meter dash at the state level.
"This year I'm back bigger and better," said Grant, who holds just about every significant W-L track and field record. "I tell my competitors that I'm going to be a force to be reckoned with. I think I've already proven that to them."
<b>GRANT WASN'T</b> the only General to shine last week, as the W-L boy's also finished with an impressive second-place showing in the team competition thanks to a plethora of standout performances. Leading the way was senior Luke Malley, who helped the Generals dominate the distance running portions of the meet. Malley won the district title in the 1600-meter run, and placed second in the 1,000-meter run and as a member of the 4x800-meter relay. Juniors Brian McGrail and Steve San Miguel were also instrumental, combining to finish first and second, respectively, in the 3200-meter run.
<b>Yorktown</b> came in third place in the girl's competition, thanks in large part to its distance runners as well. Senior Lindsey Hunt provided the highlight-reel performances, winning the district title in both the 1600- and 3200-meter runs.
"You just have leave it all out there so you can't have any regrets about your race," she said after overtaking Edison's Betel Yosef in the final lap to win the 1600-meter race in a time of 5:27.58. "I just went and it worked out."
On the girl's side, <b>Wakefield's</b> 4x200-meter relay team blew away the field coming in first place with a time of 1:52.55. Freshman Gabrielle Phillips ran the opening leg, junior Lisa Anderson ran second, sophomore Brittany Raiford ran third, and senior Sarah Sneed completed the final leg.
The overall boy's and girl's National District indoor track titles both went to Edison. As for the Northern Regional Championships that will take place Feb. 21 at George Mason, Washington-Lee had 23 athletes qualify, Yorktown had 20 qualify, and Wakefield had five.