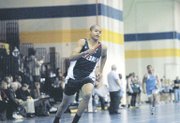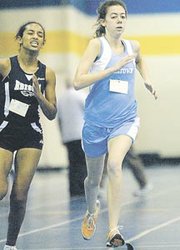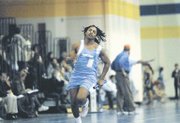 Even 10 minutes after she crossed the finish line side by side with an Edison runner, Yorktown's Kelsey Coia had no idea whether she had actually won the 1600-meter (about one mile) race at last Friday's Arlington County meet at Thomas Jefferson Recreation Center.
Little did she know, thanks to the conjoined nature of indoor track, her supposed photo finish wasn't so close after all. While Coia's Patriots, Washington-Lee, Wakefield, and O'Connell raced for city bragging rights, Edison, Mount Vernon, Falls Church, and Stuart were all battling in their own meet simultaneously.
So even though there were two runners with almost identical times in the same race, neither had much to do with the other. Coia's personal-best time of 5:33 simply provided her with a comfortable nine-second cushion ahead of second place Cynthia Carson of Washington-Lee.
"Oh gotcha, I didn't even realize it," said a laughing Coia when told she was in fact the Arlington County mile champion, before conceding that her counterpart at Edison may have out stepped her at the finish line.
It was all part of the largest winter gathering of Arlington runners this season, with close to 200 in action. But ask many of the participants and they'll say it isn't anywhere near as crazy as the National District meet (which begins Tuesday at Episcopal High School in Alexandria) or the Northern Region meet.
Yorktown coach Mark Stripe, who had a yellow smiley face balloon hovering over him at all times so runners could identify him amongst the masses, called the county meet "a three-ring circus. Those in attendance remained undaunted with two and sometimes three races or events going on at once.
"It's definitely smaller, so there's less competition, but there's much more spirit," said Coia, a sophomore who also won the 1000-meter run. "You know a lot more people that you're racing against than being really far away in Fairfax or something."
The big winners, though, came from Washington-Lee, which won both the boy's and girl's team competitions with scores of 83 and 71, respectively, and staking its claim as the best runners in Arlington.
The Generals' were led by junior Karl Lendenmann, who stole the show winning the 55-meter dash, the high jump, and helping power W-L's first-place 4x200-meter relay team. On the girl's side, W-L's Kimsue Grant was the star, attaining Arlington County champion status in the 55-meter dash, 300-meter dash, shot put, and high jump competitions.
"Districts and regionals are what kind of get me going," said Lendenmann. "But it's great to be Arlington champions. It means we accomplished something."
"With all these Arlington teams, everyone is dying to be the champ," said his coach, Warren Gillus.
Meanwhile, Coia wasn't the lone bright spot for Yorktown, which finished in second place in the boy's and girl's team competitions. On the boy's side, the Patriots' Straun Strauss won the 55-meter hurdles, while John Paparizas won the 3200-meter run. For the girls, Lindsey Hunt won the 3200-meter run and Isabel Arnold won the 500-meter run. The Yorktown boy's and girl's also both took first place in the 4x800-meter relay.
Wakefield came in third place in the team competition, led by Tim Cossey's first-place finish in the 1000-meter run. O'Connell was paced by second-place showings from Matt Gardner (3200-meter run) and Anna Murphy (1000-meter run).
All three Arlington public schools are back on the track Tuesday, after the Connection's press time, for the field portion of the National District Championships. The remainder of the track events will be held Friday at Thomas Jefferson Recreation Center.