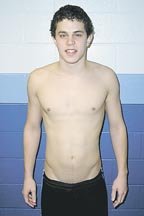 He lists them off so nonchalantly, it's a wonder people even consider them records anymore. But there was T.C. Williams senior Larry Dow detailing the various school records he has broken the past two seasons in an almost monotone voice at last Saturday's Patriot District Swim and Dive Championships.
"200 (individual medley), re-broke that record today, got the 100 free(style record) and 100 butterfly (record) this year, and I already have the 100 back(stroke) and 200 free(style) records from last year," said Dow.
"That's Larry, just very low key about his achievements," said Titans coach Brett Eanes.
There was nothing subdued about what Dow did against the rest of the district. The senior was the most impressive of all the Titans, winning the district title and setting a new school record in the 200-meter IM, nabbing second place and setting another school record in the 100-meter butterfly, and helping T.C. Williams to a fifth-place finish in the 200-yard freestyle relay. As a team, the Titan boys finished seventh, while the girls finished in sixth place.
Dow said the motivation for his record-setting time in the 100 fly came at a dual meet a couple weeks ago when he narrowly missed the then-record time. His frenetic pace in the 200-meter IM was all a matter of kicking it into a higher gear with the prospect of a close race at hand.
"I was expecting a close race in the 200 IM, I wasn't expecting to win by a whole lot," said Dow, who emerged victorious in that race by nearly five seconds and was the only swimmer to break two minutes with a time of 1:58.25.
Even though he broke some records a year ago, Dow thinks he has gotten bigger since then, adding about 15 pounds to his frame without much weightlifting.
But adding to his considerable resume will be tough now. The only school record Dow doesn't hold that he could conceivably reach is in the 50-yard freestyle — an event he won't swim at the Northern Region Championships this Saturday at Oak Marr Rec Center.
Eanes is thinking about having him race the first leg of the 200-yard freestyle relay this week in order to get a split that could possibly cement the legacy of his star swimmer.
"I just let him do his thing when he gets in the water," said Eanes. "He's pretty much re-written the record board in terms of the individual events."
<b>ASIDE FROM DOW</b>, T.C. Williams had three other boys and six girls qualify for this week's regional meet. On the boy's side, senior Patrick Cox qualified with a fifth-place finish in the 500-yard freestyle and was joined by Dow, sophomore Karl Staudinger, and freshman Mitchell Youmans on the Titans' 200-yard freestyle relay that will also compete this weekend.
The girls were led by their three impressive relays that all qualified for the action at Oak Marr this weekend. Seniors Mia Brown and Linzi Burstein teamed with freshman Abigail Cox and junior Joyvell Henry as part of the Titans' fifth-place 200-yard medley relay team. Henry and Brown also were a part of T.C. Williams' fifth-place showing in the 200-yard freestyle relay alongside junior Ruth Stockdale and sophomore Emily Leidolf.
In addition, Abigail Cox will compete in the 100-yard breaststroke at regionals after finishing with a time of 1:11.60 last weekend.