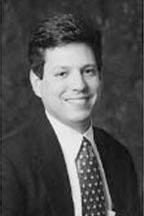 Since January 2008, Scott A. Surovell, a resident of the Mount Vernon District, has been the chairman of the Fairfax County Democratic Committee. Surovell's interest in local politics is not something new. Democratic politics, at least according to his mother, has been motivating Surovell since the day he was born.
<b>
How long have you been in the area? </b>I was born at G.W. Hospital in D.C. and grew up in Mount Vernon, so I guess 37 years. I lived in Arlington for four years after law school.
<b>
Family. </b>Married to Erinn M. Madden nine years. I have four kids: Eva, 8; Leia, 6; Mara, 4; and Colin, 2.
<b>
Education. </b>Tauxemont Preschool; Hollin Hall Elementary, K-3, Waynewood Elementary, 4-6, Stephen Foster Intermediate, 7-8; West Potomac High School, 9-12; JMU '93, UVA Law '96.
<b>
What was your first job? </b>When I was 15, I got a job as a waiter at a brand new Bob's Big Boy at Beacon Mall on Richmond Highway — which was recently torn down.
<b>
Interests, hobbies, activities. </b>Public policy, biking, hiking, geology, music, Civil War, Virginia history and gardening.
<b>
Favorite local restaurants. </b>Faccia Luna, Old Town Thai and Austin Grill
<b>
Community concerns. </b>Traffic has become so bad that it has become a serious quality of life problem and an inhibition to business development in Northern Virginia. Energy consumption has changed our climate during my lifetime here in Fairfax County and desperately needs to be addressed. Northern Virginia has done little to address our local housing and development practices that largely drive our traffic problems. I'm also concerned that we're not investing enough in education to develop our children into a globally competitive workforce.
<b>
What's on the minds of the Fairfax County Democratic Committee? </b>The shock and disbelief of Barack Obama actually being our President is still wearing off. Our statewide primary in June and the last House of Delegates elections before redistricting are also front and center.
<b>
How did you get involved in Democratic Party politics? </b>It runs in the family. My paternal grandparents moved to a farmhouse on Gallows Road in Dunn Loring from Brooklyn in 1935. The Democratic Party in Fairfax County was not friendly to newcomers then — much less two Jews from Brooklyn. My grandparents fought to change the Democratic Party, desegregate Fairfax County Public Schools and instilled a sense of community responsibility in my father which he passed on to me. My mother also fought for desegregation in Prince Edward County and is very active in Democratic Party politics as well.
I was born in the midst of my father's House of Delegates campaign. My mother likes to say that her labor was induced by a Henry Howell speech she had heard that evening. I've been volunteering on campaigns and attending events my entire life. After law school, getting married and having our first child, I moved into my grandparents' former house in the Tauxemont community and joined the FCDC.
<b>
Why should people get involved with local politics? </b> Everyone loves to complain about problems in their community, state and in our country. Political activism is one of the best ways to meet new people in your community and make your community a better place. Civic activism shows children how to be good citizens. Everyone derives some measure of benefit from living in a society. Getting involved in politics is one of the best ways to give back.
<b>
What's the best way to get involved? </b>Contact your local Democratic or Republican Committee. Go to a meeting and join. Sign up to volunteer on a campaign. If there is a particular issue or set of issues that excites you, get involved with a local chapter of an organization that advocates that issue. If you can't give a lot of time, consider starting a blog.
<b>
Personal goals. </b>To be the best husband, father, citizen and attorney I can be, and to leave my community a better place than I found it.