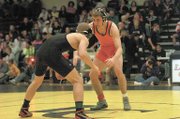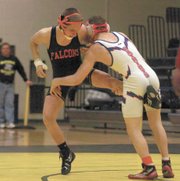 Broad Run High wrestler Denis Murray made quite a run at last weekend's Region II wrestling championships. The Spartan junior reached the finals of the 103-weight-class division before losing to Loudoun County High's Tyler Anthony in a close 7-4 decision.
Murray (46-14), who two weeks ago finished third at the Dulles District Championships, will next move on to this weekend's Virginia State Championships, set to take place in Salem.
Murray won three matches to make it to the finals round at regionals. Those wins came over Luke Anderson (Millbrook), 3-0; Quentin Goodbar (Western Albemarle), 6-0; and, in the semifinals, local opponent Nick Rea (Potomac Falls), 2-0.
In the finals match against Anthony (37-6), a sophomore, Murray scored a two-point takedown less than a minute into the first period to break a scoreless tie. Anthony, moments later, tied things up at 2-2. But Murray earned reversal points with 20 seconds left in the period to take a 4-2 lead. He held a 4-3 advantage going into the second period.
The two Dulles District rivals both worked hard in a scoreless second period. Then, 20 seconds into the third period, Anthony scored a reversal to take his first lead at 5-4. From that point on, he was able to stay on top of Murray, who could not make a move over the final minute-plus.
"He knows what he's doing and he's good on top," said Murray, who said Anthony and he are friends. "I'll probably face him again at states."
A year ago, Murray was a fifth-place finisher at regionals, barely missing the top-four state cut. But last week, he earned his first state trip with his run to the region finals.
"This has been my goal since last year when I finished fifth," said Murray of qualifying for states. "It feels amazing. My next goal is to stand on the medal stand at states."
Also qualifying for states from Broad Run was Vincent DiRenzo, who finished third in the 135 division with a 6-0 win over Michael Oswald of Potomac Falls.
DiRenzo, after a first-round bye, defeated Jeremy Robinson (Warren County), 7-0. Then, in the semifinals, he lost to Randy Fisher (Louisa County), 6-2 in overtime. That put him in the loser's bracket where he defeated Rodney Twigg (Sherando), 5-0, to advance him into the third-place match against Oswald.
In the region team standings, Broad Run finished 16th out of 23 teams. The team champion was Millbrook (156.50) of Winchester, followed by second-place James Wood (155), third-place Sherando (140) and fourth-place Louisa County (110) of Mineral. Potomac Falls finished fifth with 103 points. Other Loudoun County teams — Briar Woods, Heritage (Leesburg) and Freedom — finished sixth through eighth, respectively.
<b>BRIAR WOODS</b> advanced five wrestlers to states. Although the Falcons did not have a wrestler reach the region finals, they did earn four third-place finishes. Those four to earn third place and advance to upcoming states were Ethan Ochs (heavyweight), Mike Girolami (215), Mike Flemming (160) and TJ Julia.
Ochs defeated Mike Carlson (Millbrook), 2-1 in overtime in the heavyweight match for third place. He earned an escape point during the extra session to win the match.
"It was definitely a relief because the difference in third and fourth place is important for state tournament [seedings],"
said Ochs, who will be making his first trip to states. "I definitely had to pull it off."
Ochs (47-9), who two weeks ago won the Dulles District title, assured himself of qualifying for states with a third-period pin win over Shawn Branham (Sherando) in a loser's bracket match.
"When I won that match to lock a position at states, it definitely was the best feeling in the world," said Ochs. "I wanted to take first [at regionals] and I'm capable of it. But third [place] is fine. I'm going to the state tournament."
Ochs is looking forward to experiencing the electric atmosphere of the state tournament.
"It's going to be a lot to take in wrestling at Salem," he said. "I'll work hard this week."
At 215, Girolami defeated opponent Hunter Taylor (Sherando) in the third-place match. That match also went into overtime with Girolami getting a standing takedown for the winning points.
Girolami won his first two matches of the tournament before falling into the loser's bracket. There, he defeated Ben Pattyson (James Wood) by pin to advance to the third-place match against Taylor.
Fleming, meanwhile, took third place at 160 with a third-period win over Thomas Cooper (Central Woodstock). In that match, Flemming took a 2-0 lead on a takedown with 35 seconds remaining in the first period. Fifty seconds into the second period, Flemming turned Cooper onto his back for a 4-0 lead. Early in the third, ahead 4-1, Flemming again turned Cooper over and got the pin with 1 minute, 40 seconds left on the clock.
"I pretty much knew I had the guy at that point," said Flemming of turning Cooper over early in the third.
Flemming, who won the recent district title at 215, finished fourth at regionals last year. So, earning third at the postseason tournament last week was another step forward.
He clinched a state berth for the second straight year when he defeated Jared Broughear (James Wood), 3-0, in a loser's bracket match. That took the pressure off for his next match against Cooper.
"I had already made it to states, so I had nothing to lose," said Flemming of his mind-set for the third-place match.
<b>HE SAID THE</b> atmosphere at states last year was a little overwhelming.
"At first when you get down there, you are shocked at how big the place is," said Flemming of the Salem Civic Center facility.
This time, he will be better focused.
"Now, I know the size of it and how many people will be there," he said.
At 112, Briar Woods' Julia, who won his third straight district title two weeks ago, was disappointed when he lost his second-round region match to Ryan Bono (Millbrook), 7-3. He earned the first points of that match with a takedown in the first period, but Bono came back to win.
The setback ended Julia's hopes of a region title chance. But he got his focus back and won his next four matches in the loser's bracket to finish third. Julia won his third-place match over Brandon Fletcher (Sherando) by major decision, 12-4.
"I was kind of angry because I was expecting to be in the finals," said Julia (54-7), who did not practice in the week leading up to regionals because he had strep throat. "[Getting third] is good, but I could have done a lot better."
He's looking for a nice run at states.
"My goal is to place in the top four," he said. "That's my dream."
Also qualifying for states for Briar Woods was Thomas Hulcher, who finished fourth at 130.