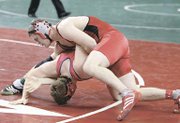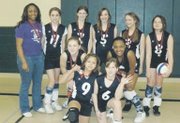 ,b>Saints Wrestler Gets National Honor</b>
Everett Epstein, St. Stephen's & St. Agnes senior and team captain, has been named an All-American wrestler by the National Prep Wrestling organization. He achieved this status as a result of his tremendous 6th-place showing in the 215-pound weight class at the 74th National Prep Wrestling Championships at Lehigh University on Feb. 19 - 21. St. Stephen's & St. Agnes School achieved the second-highest placement among IAC teams.
This honor comes on the heels of Epstein's triumphant state championship win in his weight class on Febr. 14.
"Everett was able to peak at the right time and end his high school wrestling career on a high note," said coach Joe Shabelski. "He has worked six years to achieve these goals and it will inspire our younger wrestlers to work hard for next year."
<b>Episcopal Loses in IAC Finals</b>
The Episcopal boy's basketball made a stirring run through the IAC finals, defeating No. 2 seed Georgetown Prep in the semifinals before succumbing to Landon in a thrilling 73-71 double overtime affair last weekend.
The Maroon's star battled back and forth with Landon's Christian Webster throughout. Senior Given Kalipinde had a game-high 37 points in the finals, including two free throws to send the game to overtime. David Kagulu-Kalema added in 14 points. In the Maroon's upset of Georgetown Prep last Thursday, Kalipinde had a game-high 27 points and 11 rebounds.
Episcopal (15-7 overall, 9-4 IAC) will play in this week's Sleepy Thompson Tournament, hosted by St. Stephen's/St. Agnes. Action begins Thursday afternoon at 3 p.m. when the Maroon take on Potomac (Va.). SSSAS (9-16, 5-8) takes on The Heights (Md.) at 7 p.m. The tournament championship is scheduled to take place Saturday at 5 p.m.
<b>Area Volleyball Team Wins Title</b>
Alexandria's Titans 12 team, the area's youngest volleyball team, took home the gold medal in the Time Out Invitational Tournament held on Valentine's Day at the St. Paul School for Girls in Brooklandville, Md. The win was the team's first championship victory.
Titans 12 is a travel volleyball team sponsored by the Alexandria Volleyball Club. The team is coached by Saprina Shomari and trains at Episcopal High School. Members of Titans 12 include Ella Ainsworth, Riley Arnold, Audrey Dervarics, Alexus Foreman, Sophia Holt, Hannah Johnson, Rachel Leckman, Kate Lucas, Cathi Ray and Thali Torres.
<b>New Ireton Soccer Coach</b>
Ireton alum Jon Norem (class of 1989) will become the boy's varsity soccer coach for the 2009 Bishop Ireton season. A life-long soccer player, Norem played for Hall of Famer Pete Johnson at Bishop Ireton during the late 1980s. With a Virginia Catholic state championship in his senior year, Norem went on to play college soccer for Shenandoah University, where he graduated in 1994. He has coached a number of successful club soccer teams for the previous 10 years throughout northern Virginia.