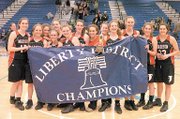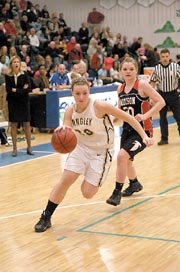 The season's route to the Liberty District championship game last week was not an easy one for either the Langley or Madison High girls basketball teams. But it was fitting that the two, the No. 2 and No. 4 seeds, respectively, made it to the tournament finals because both put together outstanding late-season stretches of play.
Neither team, by tournament time, resembled the outfits they were earlier this season. In the end, Madison was just a bit better in last Friday night's finals as the Warhawks prevailed over the Saxons, 40-29. The championship encounter took place at South Lakes High School.
"It's nice but a little intimidating," said Madison head coach Kirsten Roberts, on winning the district crown in her first season at the helm of the perennially successful program.
Then, with a laugh, Roberts said, "I set the bar too high for myself. It feels good [to win]."
<b>BOTH MADISON AND</b> Langley, in the aftermath of the district tourney, were competing at the 16-team Northern Region tournament earlier this week, with the Warhawks hosting Annandale and the Saxons traveling to West Springfield.
Neither team has had an easy time of it this season, which makes the later season success more fulfilling. Madison (13-11) lost its first five games this winter. The Warhawks, with numerous different players then last year's more dominant team that went 26-2, took a while to put things together under their new coach. But over the latter months of the season, Madison had turned the corner and was playing at a high level. The title game win over Langley was the Warhawks' eighth victory over its past 11 games.
Last year's Madison team also defeated Langley in the tournament finals.
Langley (15-9) was 2-6 earlier this season before turning things around and emerging into a district force as it won seven of its eight games going into the finals game against Madison.
"We came back and kind of took the district by storm in January and February, for the most part," said Langley coach Cheryl Buffo, whose team beat regular-season champion and No. 1-tournament-seed South Lakes in two regular-season meetings. "To be 2-6 at one point and then be playing in the [district] championship game is pretty [amazing]."
So how were Langley and Madison able to get on the right track after horrific starts to the season? For the Saxons, Buffo said a winter holiday break trip to North Miami Beach helped settle a Saxons' squad that had been struggling with several in-house issues. In Florida, the Saxons competed in the Junior Orange Bowl tournament. They also relaxed and spent lots of time at the beach.
"They turned a season — where I don't think anybody could wait for the season to end — to one that was great," Buffo said of her Saxons. "That started on the trip to Miami. It was just getting away and being on the beach. We went to the beach every day from noon to four. It's just what everybody needed and it was a turning point."
For Madison, Roberts said the holidays also did her team good. The Warhawks competed at Westfield High's Bulldog Bash. They went just 1-2, but the high caliber of competition there was a great tuner for the latter half of the season.
"I think a lot of [the reason for the season turnaround] was playing in the Christmas tournament at the Bulldog Bash," said Roberts. "Our girls played a lot of tough games there."
<b>MADISON</b> reached Friday's district finals with wins over No. 5 McLean and top-seeded South Lakes. The Warhawks had lost both of their meetings with South Lakes during the regular season, but nipped the Seahawks, 41-39, in the playoff game last Thursday.
Langley, meanwhile, made it to the championship game with wins over No. 7 Jefferson and No. 3 Woodson. In the semis victory, the Saxons trailed the Cavaliers by eight points midway through the third quarter before rallying to win. Langley senior forward Rachel Warrick scored 25 points to lead her team.
In the title game meeting, Madison defeated Langley with outstanding defense, a trait, which has led the Warhawks throughout the second half of the season.
"We just weren't able to score against Madison," said Buffo. "They did a good job defensively. When we got inside [the lane] there were two girls there."
Madison senior Danielle Landry, the tournament MVP, said the Warhawks have stressed defense all season.
"[Coach Roberts] definitely focused on defense and told us if we played good defense the offense would come," said Landry. "That was our team philosophy. We told ourselves from the beginning defense would win this thing."
And Madison's defense in the championship game was at its best in the final quarter when Langley was held to just four points. Madison, which led 32-25 going into the final eight minutes, did not score much either during that fourth quarter. But it did enough to hold on and garner the win.
<b>LANDRY SAID</b> both last year's district championship and this year's were hugely fulfilling, but different.
"They both feel great," she said. "This year has been more of a Cinderella season."
Landry and teammate Erin Kavanagh (six rebounds) both scored 11 points in the win over Langley. Junior guard Kristin Kyollo and senior forward Becca Speck (five rebounds) both added seven points. Sophomore forward Anna Jay blocked four shots and had three rebounds.
For Langley, Warrick scored 10 points. Sophomore forward Audrey Dotson had a nice game with nine points, 11 rebounds and four blocked shots.
Madison led 22-15 at halftime. Langley pulled within 26-24 on a driving layup off the left side by Warrick with three minutes, 35 seconds remaining in the third quarter. But Madison outscored the Saxons, 6-1, the remainder of the period. The Warhawks' lead grew to 37-25 on a free throw by Kyollo with 5:07 left to play. Langley never got closer than eight points after that.
"It was frustrating and disappointing on Friday night," said Buffo. "But to be able to get to the district title game again is [an accomplishment]. Kirsten Roberts has done a phenomenal job at Madison."
Landry and Kavanagh both made the six-member all-tournament team for Madison, while Warrick and Dotson made it for Langley.