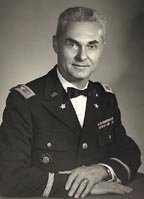 Jack Saunders Owen, Colonel AUS-Ret, 93, of Alexandria, died Feb. 10, 2009, surrounded by his wife and family members. He was the beloved husband of Dorothy R. Owen for 66 years, and the beloved father of three children, Robert Owen, John Owen, and Genie Safriet.
Born on Jan. 29, 1916, in Bedford County, Va., a son of the late Robert Quarles and Eugenia Saunders Owen, he was educated in the Bedford public schools, followed by graduation in 1938 from VPI in Blacksburg, Va. as a second lieutenant infantry officer with a bachelor of science in business. While at VPI, he was a member of Company B in the Corps of Cadets and was captain of the tennis team.
After graduation, he worked as a sales representative for Burroughs, and then entered active military service as a First Lieutenant in July 1941. Transferred to Fort Bragg, N.C., he met and married Dorothy Riley on May 15, 1942. During World War II, he served in London, England, and Paris, France in the Adjutant General Corps. While in Paris, he was the Head of Graves Registration; he received numerous awards for his World War II military service, including the VIC medal.
Upon his return from Europe, he became a military intelligence officer and studied Greek at the Presidio Army Language School in Monterey, Calif. prior to his position of Assistant to the Greek Military Attaché in Athens, Greece. He was awarded the Saint George Award for distinguished service in Greece. After the tour in Athens, he was stationed at the Pentagon in Washington, D.C. during the1956 Middle East crisis. He was in charge of the Army Middle East Intelligence Division where he often presented critical information to the Joint Chiefs of Staff. In 1958, he was assigned to Headquarters USEUCOM in Paris, France, where he served in military intelligence for the next three years.
Following a distinguished 20-year career in the Army, he retired on July 31, 1961 at the rank of colonel, and on September 15, 1961 became a financial advisor for Prudential Securities Incorporated, now Wachovia Securities. He worked 42 years for this company, retiring in September 2003. During this time he became vice president of investments in the Washington, D.C. office and was recognized as one of the top producers for many years.
Through his disciplined hard work, faithful church attendance, sense of humor, determination to do his best, commitment to family, and unbeatable game of tennis, he taught his family many lessons about how to live our lives. He was an active member of Trinity United Methodist Church in Alexandria and was a member of the George Washington Chapter of the National Society Sons of the American Revolution.
A man of faith in the Lord Jesus Christ, the family is comforted in knowing that he is in the loving arms of God.
He is survived by his wife, Dorothy Owen, his sons and their wives Robert Owen and Lyn, John Owen and Beth, his daughter and her husband, Genie Safriet and Philip, grandchildren Mark Owen, Nathan Owen, Stephen Owen, Annie Stinson, and Riley Edwards, and great grandchildren Owen Stinson and Alice Stinson.
A memorial service was held on Saturday, Feb. 21, 2009, at Trinity United Methodist Church, Alexandria. Internment with Full Military Honors will be held on April 21, 2009, at 3 p.m. at the Arlington National Cemetery.