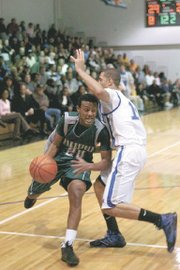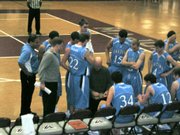 When he first began coaching the boy's basketball team at Wakefield seven years ago, the last profession Tony Bentley thought he'd be able to empathize with was that of a wedding coordinator.
But after schmoozing with guests, planning and then purchasing spreads of food, making sure there was a DJ on hand, hiring outside help like trainers and referees, and ensuring it was all within budget at last week's annual Wakefield Holiday Tournament, the coach couldn't help but wonder if a blushing bride would emerge from a locker room at some point.
"It is almost like planning a wedding," said Bentley during day two of the three-day tournament that featured eight Virginia boy's basketball teams, including Washington-Lee and Wakefield. "You're trying to please every coach, every school, all the fans, and you're working so hard from 9 o'clock in the morning, and after you put in all this work trying to put on a top flight tournament, I sit back and go, 'Oh we got a game in 15 minutes.'"
Nearly every Northern region boy's and girl's basketball team participated in some sort of tournament over the holiday break, but few people realize just how much goes into pulling them off.
<b>MOST PLAYERS AGREE</b>, the holiday playing slate provides a welcome respite from the seemingly endless amount of games against Northern Region teams during the regular season. Most tournament organizers around the area make it a point to try to have well balanced fields with both local and out-of-town teams.
"You always want to make sure you improve as a team every day and a tournament is a good opportunity to do that because you just play one game after another," said Yorktown's Simon Kilday, whose Patriots finished third in the 34th annual Mount Vernon Holiday Basketball Invitational at Mount Vernon High School.
Coaches like tournaments for the simple matter of getting more time with their teams, rather than having them sit around all winter break.
"It's just a matter of getting in more games and maybe experimenting with different lineups that you might use once you get to league play," said Yorktown coach Rich Avila, adding his teams used to attend the Pohanka Chantilly Classic at Chantilly High School.
The Mount Vernon tournament is different from its Wakefield counterpart thanks to its long tradition and the work of Mount Vernon director of student activities, Bernie Forte, who has been running the annual holiday hoops get together since 1989. Forte's role allows Mount Vernon coach Alfonso Smith to focus solely on coaching his team.
When he first started his tournament six years ago, Bentley made it a point to ask Forte just how things were done. Forte emphasized the need to set up the right matchups, both for quality of play and crowd interest.
Bentley said work for this year's tournament began way back in January when he sent out about 125 invitations to schools across the Mid Atlantic. He starts by asking various coaches at quality basketball schools whether or not they liked the tournament they attended just a month earlier. If they didn't, the coach pounces and invites them to his.
<b>BENTLEY SAID</b> he had to beg teams to come fill out the eight-team field in the tournament's infancy. This season he had to turn teams away.
But game after game means a whole lot of work for somebody once the final buzzer sounds.
Bentley has the help of about 15 volunteers, including his own assistant coaches, who sometimes work for nothing more than a thank you announcement at the conclusion of the tournament.
With school out of session, the Arlington County School system does not provide any money for the Wakefield tournament. Bentley relies on gate and concession money to pay for things like custodians, trainers, t-shirts, and awards for every participating team. He also had several local vendors on school grounds, all of whom gave portions of their profits back to Wakefield.
Unlike the Mount Vernon tournament, Bentley has never charged an entrance fee. One of the main reasons he originally decided to hold a tournament at Wakefield was because his team couldn't afford to pay to play. Next year, though, in order to cover expenses, Bentley thinks he'll start charging a minimal fee.
"If people want to do a tournament and think they're going to make a lot of money, it's not about that," said Bentley, adding that he either breaks even or pulls a small profit that goes back to the Wakefield team in the form of new equipment such as shoes. "There are just so many bills to pay and we just don't have that many sponsors."
<b>THE LACK OF SPONSORSHIPS</b> may change after this year's successful tournament. Bentley had set up the bracket so that his one-loss Wakefield team would potentially face defending state champion T.C. Williams in the tournament finals.
After Wakefield defeated Annandale and T.C. Williams disposed of Alexandria rival St. Stephen's/St. Agnes in the semi finals, the dream game was set. With two neighboring schools that could end up facing one another again come regional playoff time, the Wakefield gym was packed to the brim, so much so that fire marshal rules prohibited the school from letting some people in the building.
"It was the matchup we were looking for," said Bentley after his Warriors lost 67-51 to finish as the tournament's runner up. "It's nice to know that people cared about what we set up."