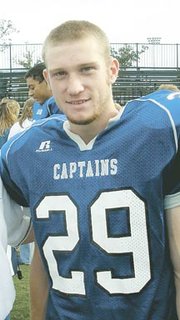 <b>Wever Earns Postseason Honors</b>
Ryan Wever, a sophomore defensive back at Christopher Newport University, was named second team All-USA South Conference and to the Virginia Sports Information Directors (VaSID) All-State football team. Wever tied for the team lead with three interceptions, finished fourth on the team in tackles (48) and set a school record with a 69-yard fumble return for a touchdown. The Captains were 8-2 this year, winning their conference title and advancing to the NCAA Division III playoffs. Wever was a 2007 graduate of Westfield High School where he started for three years, helping the Bulldog football team win a pair of Concorde District championships and make two Northern Region title-game appearances.
<b>Paul VI Community Helps Out</b>
Three women from Paul VI High School have been chosen from thousands of worldwide applicants to attend the Global Youth Activation Summit this February in Boise, Idaho.
The summit will take place during the 2009 Special Olympics World Winter Games. Attending will be junior Natalie Mills (athlete), junior Nicole Simon (peer mentor) and Mary Jo Gregory (teacher/chaperone).
Fifty athletes and 50 mentors were chosen for this honor.
Started in 2001, the Fifth Global Youth Activation summit brings together young people with and without intellectual disabilities from around the world who are committed to making a difference in their schools and communities through the Special Olympics.
"What a wonderful experience this is going to be," Gregory said. "We will have the opportunity to share with the rest of the world that the partnership formed between students with and without intellectual disabilities has created acceptance, dignity, respect and friendships throughout our community at Paul VI."
Delegates will have the opportunity to interview participants in the Special Olympics World Games and then broadcast on a Global Webinar. To be part of the Webinar, contact mjgregory@paulvi.net.
<b>Dale Makes Budget Proposal</b>
With little surprise or fanfare, Fairfax County schools superintendent Jack D. Dale last week made public his budget drafted for the fiscal year 2009-10, cutting funding for girls gymnastics but not indoor track and field.
Both sports had been under scrutiny since a proposal was unveiled back in November that featured three best-to-worst-case scenarios. Gymnastics appeared all three, indoor track and field only on the most severe.
"The logic remains the same," Dale said of the choice to cut gymnastics. According to both Dale and Fairfax County director of student activities Bill Curran, around 125 girls compete and the two cited the sport's availability at the club level as another reason for the measure.
One thing that hasn't remained the same is the school district's budget shortfall.
It was originally expected to be around $170 million, but if the Board of Supervisors denies a 3.5 percent funding increase that Dale asked for with his latest budget, the shortfall could trigger that most severe case in which indoor track and field is also cut.
"It is entirely dependent on what the Board of Supervisors gives us," Dale said. "If there is no additional money, we will face a $215 million shortfall."
<b>Softball Umpires Wanted</b>
Fairfax Adult Softball (FAS) is seeking umpires for its adult slowpitch softball leagues in Fairfax County. Pay starts at $23 per one-hour game and umpires are paid monthly. Experience is desired but training is provided. For more information, contact FAS at 703-815-9007 or email at office@fairfaxadultsoftball.com.
<b>Fairfax Adult Softball Signup</b>
Fairfax Adult Softball (FAS) is currently accepting applications for adult softball teams. Men's, women's, co-ed, corporate co-ed, senior's (age 50+), and master's (age 35+) leagues are available. Applications are accessible via the FAS home page at www.fairfaxadultsoftball.com. For further information, please call 703-815-9007 or email office@fairfaxadultsoftball.com. FAS is a non-profit corporation registered in the state of Virginia which administers the largest adult softball program in the state with nearly 10,000 participants.
<b>Special Olympics Bowling Tournament</b>
Fairfax Adult Softball (FAS) will host the Ninth-Annual Benefit Bowling Tournament on Jan. 25 at the Bowl America Shirley in Alexandria. Proceeds from the tournament will assist Virginia Special Olympics Area 26 and FAS field improvements. Applications are being accepted through Jan. 16 and activities run from 1:30 to 4:30 p.m. on the day of the event. For the past 18 years, participants of FAS have contributed to local charities. Since the first bowling tournament in 1999, FAS and its participants have raised more than $100,000.