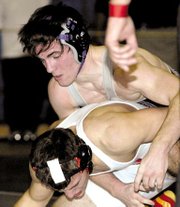 The Herndon High wrestling team has managed to put together a solid 10-9 dual team record this season despite being without a full lineup throughout most of the winter season. The Hornets have a good nucleus of solid wrestlers and have fought and clawed their way to team victories.
An example of that came in a dual team win over Mount Vernon during a quad meet at Robinson High Jan. 7. The Hornets found themselves trailing the Majors by three points going into the final weight class at 125. There, Herndon senior Thanh Dang, a first-year varsity wrestler, overcame a 6-0 second-period deficit to win 7-6. The three decision points allowed Herndon to tie the team score at 34-34, but the Hornets were awarded the team victory based on winning eight individual matches to Mount Vernon's six.
"It was huge," Herndon coach Mike Gonzales said of the team win over the defending National District champion Majors. "I think our guys were in better shape than they were. In the third period [of matches] guys were still going strong."
Along with Dang's comeback win, Herndon also got a huge comeback win against the Majors from sophomore JP Theodorakos, who rallied from an 8-2 deficit to win his match at 215 weight class.
The Hornets lost their dual meet to host team and Northern Region power Robinson on that same night, but the win over Mount Vernon was a nice lift for Herndon.
"The attitude was still positive after the [Robinson] match," said Gonzales, whose team took only two individual wins against the Rams. "We just use that as a motivator to train harder."
This past Saturday, Herndon hosted a home quad meet. There, the Hornets went 2-1 in dual meets, defeating Edison, 40-27, and Stone Bridge, 53-7, and losing to non-Northern Region opponent John Randolph Tucker High (Richmond), 43-26.
<b>HERNDON IS</b> 0-3 in the strong, grueling Concorde District, the losses coming to Fairfax, Westfield and Robinson. But the Hornets have won a majority of their non-district matches.
"I think we've wrestled pretty good," Gonzales said. "We're forfeiting one or two [weight classes a meet] and we're still pulling off wins. We have a decent team and sometimes have to get out of the [district] to get wins under our belts."
Herndon has received good years from team captains Josh Pike (119-weight class) and Nick Ziegler (130). Both were fourth-place finishers at districts last year and Pike was fifth in the region.
The two are hard workers in the practice room, according to Gonzales, making for a good example for the other team members.
"Both are great motivators for the kids," said Gonzales, of the duo.
One of Herndon's top wrestlers this season is junior Matt Olem (135), who had won 15 straight matches before losing to his Robinson opponent last week. Over the holidays a few weeks ago, he was the 135 champion at the West Potomac Christmas Tournament Dec. 30.
During his freshmen and sophomore seasons as a member of the Herndon varsity, Olem took his lumps. But he opened the current season with success and his confidence has grown.
"He always had the wrestling skills," Gonzales said. "It was just mental. It was tough for him the first two years as a freshman and sophomore on the varsity."
Olem went 7-0 at the Rocket Launch Duals Tournament in Rockville, Md., Dec. 19-20. And he also went unbeaten at 5-0 earlier this season at the Warhawk Duals in Vienna.
"He's kept winning and winning and getting the close matches," Gonzales said.
Herndon went 3-2 as a team at the Warhawk Duals, hosted by Madison High School, the wins coming over Broad Run (Ashburn), Madison and St. Paul's (Baltimore).
<b>TEAM HIGHLIGHTS</b> for Herndon this season include a fourth-place finish at the eight-team West Potomac Christmas event. The Hornets garnered fourth despite filling only nine of 14 weight classes.
Herndon place finishers at the tournament were freshman Gabe Pike (second place at 103-weight class), sophomore Ramon Reyes (second at 112), junior Josh Pike (second at 119), Matt Olem (champion at 135), senior Matt Medvene (fourth at 145), senior Ryan Healy (second at 171) and junior Jimmy Thomas (third at heavyweight).
Herndon will be competing at the Freedom Duals event in South Riding this Saturday.