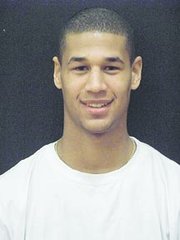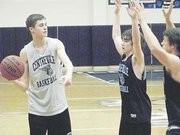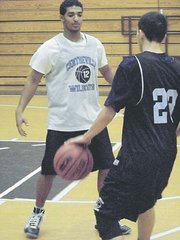 The same character trait that makes Centreville's Warren Denny so special is the same trait that sometimes triggers his only downfall. Denny tries too hard to do too much.
Denny, a 6-foot-3, 210-pound forward on the Wildcat boys basketball team, says without hesitation that his favorite professional player is New Orleans Hornets point guard Chris Paul -- the NBA's leading assist man (11.1 per game) who also averages 20.9 points per game.
The only problem with that comparison is that many NBA stars can't match Chris Paul, let alone a still-developing junior in high school.
"The only time that Warren gets in trouble is when he tries to do too much," said first-year coach Drew Murphy. "He's getting better at that. He played really well at Yorktown (a 61-51 win on Jan. 13), letting the game come to him. He just makes us so much better when he does that.
"The more he improves, the more he makes other guys better. And that's going to make us better down the stretch. He's got such talent and such tools … the sky is the limit."
Starting now for a second year, Denny has been much improved at limiting his turnovers and mistakes. He has also increased his scoring and leads Centreville in nearly every offensive category.
<b>HIS NIGHTLY AVERAGE</b> of 14.4 points per game far surpasses that of the team's second-leading scorer, senior guard Kareem Worthey (9.6 ppg). Denny also averages a double-double, collecting 10.4 rebounds a night to go along with team-best averages of 3.9 assists and 2.4 steals.
"Last year I would make a mistake and my head would go straight down," Denny said. "This year my composure has been better, and I feel like my decision making and getting my teammates involved has been a lot better."
Denny also excelled this past fall on the football field, catching a team-best 29 passes for 400 yards and three touchdowns. He just finished his highlight tape and will likely garner loads of attention entering his senior campaign.
But for the time being Denny is enjoying life at Centreville. According to Murphy and various team members, Denny carries himself just like one of the guys, without a hint of an ego and like someone who prides himself on getting along with everyone.
"I guess he's the popular one," said Worthey, rolling his eyes. "He's the football star, the basketball star. He's 'Mr. Centreville,' but I love him to death. He's like my little brother."
Centreville's season so far has actually progressed a lot like Denny. Early on the Wildcats turned the ball over too much -- more than 20 times in some cases -- but they've since improved at protecting the basketball.
With a fairly young team, Murphy has also had quite a bit of work to do dealing with late-game situations. The Wildcats have held leads in several contests, only to see those advantages slowly dissolve through the aforementioned turnovers and sloppy play.
<b>IN ADDITION</b> to Denny and Worthey -- "He's really starting to put it together," Murphy said -- the Wildcats have been helped along by surprising sophomore Cameron Owens, who's averaging 5.4 points and 3.6 rebounds per game.
Despite a nagging, early-season hip injury, junior guard/forward Bobby Warhurst is finally healthy, giving Centreville a capable shooter and scorer. Through Wednesday morning, Warhurst was averaging 8.1 points per game.
"When I'm out there and I'm healthy, I feel like I can do a lot more," Warhurst said. "I feel like I'm a lot more confident and that I'm a good team player."
The Wildcats took 6-8 overall, 2-3 in Concorde District play into a matchup Wednesday night at Oakton, which ended after this edition went to press. Most recently, Denny had 10 points and 16 rebounds during a 63-50 win over Fairfax last Friday.
Denny compared Paul to Kobe Bryant -- another favorite player of his but simply for his scoring ability and little else.
"Kobe is a great player, but the thing that separates him from Chris Paul is that Paul gets his teammates more involved than Kobe," Denny said. "Kobe looks to score 30 or 40 points a night, but Chris Paul is looking for the win.
"It doesn't matter if it's 15 points or 15 assists, [Paul] just worries about two things. He wants to get his teammates involved, and he wants to win the game."