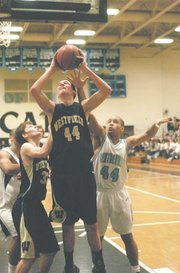 The way Centreville High senior Warren Denny sees it, simple mathematics is the proof behind the Wildcats' improved play this season compared to last year. Last Friday night, Denny and his teammates improved their record to 10-1 with a commanding 66-48 win over local rival Westfield. The Concorde District boys' basketball contest was played in front of a large, vibrant crowd on the Wildcats' home floor.
"Last year we were 10-14 for the season, so we've already matched last year's [win total]," said Denny, a versatile, 6-foot-3 forward who scored a game-high 23 points to lead Centreville to the victory.
Denny, the Wildcats' leading scorer this winter season with 19 points per game, did it all against the Bulldogs — scoring most of his points off hard drives to the basket. He had a team-high 10 rebounds to go along with his points' outage, and also had four assists. He went to the foul line 12 times, making nine of the free throw conversions.
While listed as a forward, Denny's game is much more wide ranged than that. He handles the basketball like a play-making point guard and displays his physical strength around the basket like a pivot player. Denny is the best player on a talented Wildcats' team with good depth.
"We don't like to say he's anything [position-wise] other than a basketball player," said Centreville coach Drew Murphy, of his standout player. "He rebounds and can shoot. He's been playing real well."
Denny, a third-year varsity starter, averaged 14 points and 10 rebounds per game last year as a junior to earn First Team All-District honors. Thus far, he is having an even better campaign as a senior.
"I like bringing the ball up [the floor in transition] and going to the basket most," said Denny, of being out on the floor. "Being a senior leader I feel it's my job to carry the team."
Murphy loves the emotional charge Denny brings to Centreville.
"He's our guy, he's fired up and plays as hard as anyone I've coached," said Murphy.
Doug Ewell, Westfield's coach, is
impressed with Denny's all-around game.
"He's a very good athlete and a good basketball player," said Ewell. "He's something to be reckoned with in the district and the [Northern] Region too. He's quick and can shoot the ball. He has all the tools."
<b>EARLY IN THE SECOND</b> quarter on Friday, Centreville trailed 10-6 before Denny scored the first seven points of an 11-0 Wildcats' run to help put the home team ahead, 17-10, with three minutes remaining until the half. Centreville never lost the lead thereafter. Denny, during the game-changing spell, started things off by scoring on a five-foot jumper while being fouled. He nailed the free throw to get his team within 10-9. A few moments later he scored on a driving six-footer off the right side. Then shortly after that, he made two foul shots to make the score 13-10 Centreville.
Centreville led 20-15 at halftime. A strong third quarter saw the Wildcats increase their lead to 38-26 going into the fourth. The Wildcats never relinquished control in the final quarter.
One of the game's highlights of the night came with 2:30 remaining when Centreville senior forward Bobby Warhurst (7 points) burst towards the hoop for an uncontested slam dunk from the left side of the floor to give the Wildcats a 60-40 lead. The emphatic basket brought a roar from the Centreville student body. Denny, during a timeout moments later, hugged Warhurst from behind as fans shouted, "Bobby Warhurst, Bobby Warhurst."
Three Centreville players scored in double figures in the win. Along with Denny's huge game, junior forward Cameron Owens scored 12 points and senior guard Chris Campbell added 11.
Centreville has a good core of senior leadership with Denny, Warhurst and point guard Nick Tsinger (5 points).
"We have seniors who have been there before and we've gotten contributions from other guys too," said coach Murphy.
<b>WESTFIELD, MEANWHILE</b> is a less experienced team and is going through a tough early part of the season. The Bulldogs, who were 2-10 following the loss to Centreville, started just one senior against Centreville — 6-4 shooting guard Danny Fenyak. But Westfield has several promising underclassmen players in 6-9 sophomore center Zach Elanco and 5-11 sophomore guard Mark Gibson, who scored 13 and 12 points, respectively, against Centreville. Marty Walsh, a junior guard, scored eight points in the loss and Mack Spees, also a junior backcourt player, had seven.
"We're just not consistent enough," said Ewell, the Westfield coach. "We play a good half of basketball but not a full 32 minutes. We're young and if we don't play [a strong] 32 minutes, we get exploited."
Ewell loves the potential of 10th grader Elanco, his talented pivot player who was a starter on the Westfield JV team last year. The youngster, at times, was a dominant presence upon receiving the ball inside the lane against Centreville. His rebound follow-up basket and ensuing free throw as a result of getting fouled gave the Bulldogs a short-lived 9-4 lead late in the first quarter.
"He's just young and [learning], but he's getting better every night" said Ewell, of Elanco's game. "He's a hard worker."
Westfield's win thus far have come over McLean High, 49-36, on Dec. 4 and Freedom High (South Riding), 69-45, on Dec. 28. Both victories came at home.
The Bulldogs were scheduled to play district home games this week against Robinson (Tuesday, Jan. 12) and Herndon (Friday, Jan. 15).
Centreville, meanwhile, was set to play Herndon at home on Tuesday before traveling to Chantilly this Friday night.