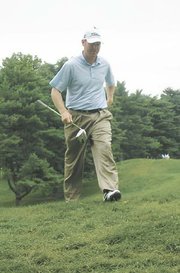 It was early Sunday afternoon, long before eventual tournament champion Tiger Woods was set to tee off at last week's AT&T National, when Troy Matteson approached the 18th tee at Congressional Country Club's famed Blue Course.
A slight drizzle had begun and almost instantly somebody from the gallery of four or five proclaimed, "Good thing you guys are beating the rain."
Matteson, who was in the midst of posting a final round, two-over 72 as part of the day's second pairing with tour veteran Jeff Maggert, simply turned and grinned at what amounted to a gallery.
"Yeah, that's what happens when you play bad," he said before hitting a driver down the right side of the fairway. Matteson finished the tournament with a score of plus-nine, leaving him T-66th for the week.
As poorly as he played, though, Matteson was still able to take solace in how far he had come since spending two summers working at Army-Navy Country Club in Fairfax back in 1998 and 1999.
A tour veteran of four years now, Matteson was born in Rockledge, Fla., and spent his high school years in Austin, Texas before moving on to play golf and major in civil engineering at Georgia Tech.
But his parents moved to McLean once he left to become a Yellow Jacket, meaning Matteson returned to the unfamiliar surroundings of Northern Virginia for his first two summers in school. With jobs as a club pro out of the question thanks to his amateur status on the college golf circuit, Matteson took a job at Army-Navy Country Club "answering the phones" and "picking up lunch" for other people.
"I was basically the errand boy," he said. "I don't even remember how much I got paid, but it wasn't much. I was low man on the totem pole. I just needed a place to play and practice at."
<b>JEFF SHELTON</b>, an assistant at Fairfax's Army Navy Club back when Matteson frequented the course, remembers the future pro as more than just a spare part. Now the director of operations at the Arlington Army-Navy Club, Shelton makes it a point to let people know about Matteson's area connection.
He made it out to Congressional this week and caught up with his employee turned professional golfer.
"Troy didn't just answer phones and get lunch, he helped out a lot," said Shelton. "He even taught us a few things about the game of golf. He's one of those guys that I always said, 'If I have two sons and they turned out like him, I'd be OK with that.'"
In particular, Shelton thought back to when Matteson would lead junior golf clinics. "He was really good with the kids," said Shelton, and that was on full display after Matteson's AT&T National concluded early Sunday afternoon.
He signed autographs for children for close to 30 minutes, handing out gloves, tees and golf balls to young fans who couldn't get enough of the free giveaways. He even had some fun with it, joking with one recipient, "If I see this on eBay, I'm gonna come find you."
<b>THE LARGE GALLERIES</b>, though, weren't usually reserved for Matteson. Currently No. 287 in the world golf rankings, Matteson rarely had the attention of the record crowd of more than 194,000 people that showed up during last week's event.
That doesn't mean he has been without his successes. After his two summers working around here, Matteson began playing competitive summer golf on several mini-tours. He qualified for the PGA Tour by earning the most money on the Nationwide Tour (golf's version of the minor leagues) in 2005. During his rookie season in 2006, Matteson won his first and only event, the Frys.com Open, and also placed in the top-10 five times that year.
He had more than $1 million in earnings his first three years on tour, but has struggled this season and currently sits 145th on the PGA Tour's money list with just under $290,000.
Nowadays, he travels the tour in an RV with his wife Shauna. The two left the area Sunday afternoon thanks to Matteson's early finish and began making their way toward the next PGA stop, the John Deere Classic in Moline, Ill.
The 14-hour drive may seem long, but it's all part of Matteson's journey to becoming the golfer he has always dreamed of turning into.
"When you're young and you haven't really gotten out (to the PGA) … you're not really concerned with being successful, you're just concerned with getting a chance," said Matteson, who despite his struggles, has a career-low scoring average this season. "When you get out here, you're more concerned with how do I achieve success at this higher level. I played a lot of bad rounds as an up-and-coming professional, and I still have a few now and then … but a lot of making it is just confidence, keep playing, and see what happens."
And the reality is, it sure beats answering the phones at a country club.