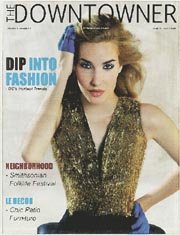 The Fairfax Library Foundation Board of Directors held its annual meeting on June 16, to elect Susan C. Harman, the associate director of the Northern Virginia Community College Educational Foundation, to serve as secretary. This term was vacated mid-term by Susan C. Thorniley, Coordinator for Library Information Services for Fairfax County Public Schools, who became that of an ex-officio director upon accepting her role as the chairman of the Fairfax County Public Library Board of Trustees. The transition began on July 1 just as the library system incurs a 15 percent budget cut from tax-based funding.
Mount Vernon teenager Katie Sargent is featured on the recent cover of the DC's "Downtowner." Katie just finished her junior year at Mount Vernon High School, where she is an honors student in the International Baccalaureate, IB, program. She is captain of the MVHS cross country team, as well as being on the varsity swim and soccer teams. Katie has coached youth soccer with Gunston Microsoccer and is a swim coach at Mansion House Club for the past several years. She began modeling a year ago after winning several honors at the International Modeling and Talent Association, IMTA, event in New York last summer. She is headed to Los Angeles this summer to model for Vision LA and is represented by CH Models, Randy Cazz and Joey Hunter, out of New York.
Inova Mount Vernon Hospital recently named Art Sivaslian chief growth officer and assistant vice president of operations. Sivaslian's duties will include hospital planning, physician growth, and new and existing business ventures for the hospital, in coordination with Inova Health System.
Army National Guard Pfc. Erika M. Martinez has graduated from basic combat training at Fort Jackson, Columbia, S.C. She is the daughter of Gilma Martinez of Andrus Road, Alexandria. The private is a 2005 graduate of Mount Vernon High School, Alexandria.
Tara Murphy, who teaches sixth-grade at Mount Eagle Elementary School, has been named the 2009 Fairfax County Public Schools (FCPS) First-Year Teacher of the Year. In her first year as an FCPS teacher, Murphy found herself as Mount Eagle's only sixth-grade teacher — with 24 students, 19 of whom spoke English as a second language.
A significant number of those students had special needs or were eligible for free or reduced-price meals. Their reading levels spanned from second grade to eighth-grade levels.
In order to meet the school's goals of having all students achieve at high levels, Murphy met the challenge by focusing on class building and teambuilding, creating teams of four students based on differing ability levels. With this framework, her students learned to support each other in class, exemplify their strengths, and get help when they needed it.
Alexandria resident Willard O. Jasper is the new vice chairman of the Fairfax County Public Library Board of Trustees for one year. Jasper has served as the Lee District representative to the board since March 2004.