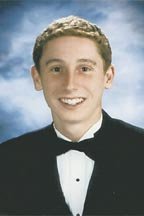 Michael Fagan is the recipient of the 2009 Pamplin Leader Award at Mt. Vernon High School. The Pamplin Leader is a one-year, $1,000 tuition scholarship to Virginia Tech. It is presented annually to a top student from each public high school in Virginia. It was established by Robert B. Pamplin Sr. (VT, Class of '33) and Robert B. Pamplin Jr., to acknowledge students with a record of outstanding academic achievement that is balanced with a commitment to community service and leadership experience.
West Potomac Academy is establishing a partnership with the new Copyright Alliance Education Foundation to help communication arts students learn to promote and protect their intellectual property. Students in Professional Television Production, Professional Graphics Studio, Music and Computer Technology, Dance, and Fashion Design will be offered membership in the Copyright Alliance.
William Johnson of Alexandria earned JROTC Promotions at St. John's annual JROTC Federal Inspection and Commissioning ceremony on Thursday, May 14. The position of cadet colonel was transferred from senior Andrew Riggott to junior William McNamara. Also promoted were five lieutenant colonels, eight majors, 17 captains, 10 first lieutenants and 12 second lieutenants from the Class of 2010.
Djidjoe "Coco" Agbeyibor of Alexandria, a electrical engineering and computer science major at the Massachusetts Institute of Technology, was recently selected to join the Bernard M. Gordon-MIT Engineering Leadership Program's Class of 2011. The program is a new educational initiative at MIT that combines leadership development with the rigor of the MIT educational experience. Agbeyibor — who graduated in 2007 from Mount Vernon High School — will develop his engineering leadership skills in the program.
Through Jan. 1, 2010, an unpaid internship program at Mount Vernon offers high school, undergraduate, and graduate students an introduction to archaeological methods and techniques in the field and the lab. Volunteers are also welcome. No previous archaeological experience is required. For more information, contact Curt Breckenridge 703-799-6303, cbreckenridge@mountvernon.org.
Three long-time Alexandria community organizations — the Rotary Club of Alexandria, the Goodwin House, and the Alexandria Symphony Orchestra — recently collaborated to sponsor a music competition for juniors and seniors in area high schools. Six outstanding Alexandria student musicians participated in the Alexandria Rotary's annual Music Competition. Judging the competition, and then leading the students in a follow-up "Masterclass" one-on-one instruction, was Kim Allen Kluge, music director of the Alexandria Symphony Orchestra. Annie Trimber, a flutist and a senior at West Potomac High School, was awarded the Rotary Club of Alexandria's Gold performance award and will now move on to compete in the Regional competition for the $5,000 in music scholarships awarded each year by Rotary District 7610. While Trimber took the top Gold honors, Silver performance awards went to three students at St. Stephens & St. Agnes School: Kelly Bragg, a vocalist; Will Jakes, a cello player, and Ian McLeod, a pianist. Bragg and McLeod are seniors and Jakes a junior. Bronze performance awards went to Tia Norris-Towler, a violin player who is a T. C. Williams junior, and to Dorothea Kamara, a senior at West Potomac High School.
Seven Alexandria residents have recently been named to the dean's list at Boston University for the Fall semester: Erin T. Coffey, Patrick R. Fitzsimmons, Thao T. Nguyen-Le, Dale S. Placek, Benjamin B. Rhodeside, William J. Tortolano IV. and Alison M. Yates.
Fairfax County Public Schools (FCPS) health and medical sciences students earned a total of 26 awards at the HOSA (Health Occupations Students of America) State Leadership Conference held recently in Williamsburg. The following students won first, second, or third place awards:
* Robert Cordell of Mount Vernon High School and West Potomac Academy, first place in Physical Therapy.
* Ashraf Elmelik of West Potomac High School and West Potomac Academy, first place in Clinical Specialty and second place in Extemporaneous Speaking.
* Mara Perscheid of West Potomac High School and West Potomac Academy, second place in Physical Therapy.
Norman Wallace, a sixth grade student and School Safety Patrol member at Hybla Valley Elementary, has been selected to receive the AAA National School Safety Patrol Lifesaver Award. Wallace will receive his award at the AAA Traffic Safety Awards Ceremony in Washington, D.C., in May. He was cited by bus driver Tammy DeFrees for pulling to safety a child who was about to cross the street in the path of a car. He has also been recognized by the AAA Mid-Atlantic Foundation for Safety and Education.
The following students were named to Winston-Salem State University Fall 2008 dean's list: Marissa Terry of Alexandria; Malarie Younger of Mount Vernon.
Annela Mary Levitov of Alexandria, a junior at Gettysburg College, has been placed on the dean's honor list.
Sara Frances Fry, of Alexandria, a junior at Gettysburg College, has been placed on the dean's honor list.
Carol Cogliano, daughter of Alexandria resident Sally Valdes, graduated with a bachelor of fine arts degree from Ithaca College's School of Humanities and Sciences. The degree was awarded in December 2008.
Mende Wentzel, of Alexandria, is among 10 JMU students that will train with Special Force soldiers as part of the ROTC Ranger Group.
Eight Ireton students, representing two teams, were invited to participate in the Economics Challenge State Championship at Virginia Commonwealth University in Richmond on April 1. They are Billy Burns, D'Elia Chandler, Beau Dolan, Nathan Hahn, Tyler Hargett, Nathaniel Johnson, Fred McGrath and Steven Porter.
William Muster of Mount Vernon graduated from Virginia Tech.
Fort Hunt High School Class of 1979 is holding its 30-year reunion this summer during the weekend of Aug. 7 - 9. Visit fhhs79.com.
Lisa Starling, a fifth grade teacher at Bucknell Elementary, has been selected to attend the 2009 Mickelson ExxonMobil Teachers Academy at the Liberty Science Center in New Jersey.
The Mount Vernon's Regional Science Fair winners include:
* Alexander Weinberg - 1st place in Environmental Analysis; Alexander will also be competing in this Saturday's State Fair. Alexander also won Honorable Mention Certificate of Merit from the Geological Society of Washington.
* Chadwick Eason - 2nd place in Chemistry. Chadwick also won an Awards Ceremony Invitation and Tour of CIA Headquarters
* Kathryn Lucas - 2nd place in Environmental Analysis
* Charlene Belanger - 2nd place in Plant Sciences
* Christina Bolton - 3rd place in Environmental Analysis
* Victoria Skaggs - 3rd place in Environmental Management
* Katja Broecker - 3rd place in Environmental Management
* Jessica Kadle - Honorable Mention in Biochemistry
* Corinthia Evans - Honorable Mention in Chemistry
* Rebecca Whitworth - Honorable Mention in Energy and Transportation
* Sarah-Marie Wood - Honorable Mention in Physics and Astronomy
* Farzana Olla - Honorable Mention in Plant Sciences
* Blake Barrow - Honorable Mention in Plant Sciences
All the winners posted at http://www.fcps.edu/DIS/sciengfair/2009web.html
More like this story