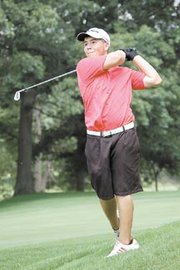 It was every golfer's dream scenario, although one surrounded by just a slight bit of tension. Up five strokes on the 12th hole in the finals of a big tournament. Breezin' along.
But a par-3 tee shot misses the green and hangs up on the last inch of grass on the lip of a greenside bunker. With an awkward, off-balance stance, the main goal is to make contact.
Miraculously, the chip is pure and settles close enough to the cup for an easy par. That other guy? He makes bogey. With friends and family shouting their approval, that horrendous situation has suddenly transformed itself into a six-stroke lead.
Rising Westfield senior Tim Ritter lived this dream in one of the area's biggest junior tournaments, the Bobby Bowers Memorial at Springfield Golf and Country Club.
In the 16-17-year-old boys' division finals on July 9, he was playing one of the region's top juniors, Sean Bosdosh of Clarksburg, Md. As Ritter walked to the 13th tee, he wore a confident smile.
Two shots later, Ritter calmly stroked a 12-foot birdie putt for the win, 7 and 5. Game over, but the dream continues.
"I'm playing solid," Ritter said afterward. "The greens here are great, and once I saw the line, I was able to roll it in."
Ritter also said he had been able to keep the ball on the correct side of the fairways, thus allowing for good approaches.
"I also had four or five chip-ins during the tournament," he said. "Those helped a lot."
Ritter qualified for match play with a 1-over round of 72 on the first day, second only to Bosdosh's 69. In a field of 64, Ritter won four matches to get to the final, including narrow wins against Centerville's Brian Keith (2 and 1) and Vienna's Joe Moloney (1-up).