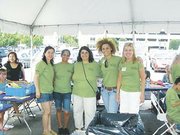 To the Editor:
The Reston Festival Committee and Reston Festival, Inc. would like to thank all the wonderful volunteers who came out on Saturday, July 11 and Sunday, July 12 to help celebrate Reston's 45th birthday at the Reston Town Center. This Festival would not be possible without the knowledge and time commitment volunteers put in.
More han 100 volunteers contributed to the two-day event by helping out in different areas throughout the day. Families, teens, groups, individuals and businesses pitched in to help make the festival special for the community. Thank you to all the committee members who volunteer their time throughout the year to make this Festival possible. Thank you: Jim Traylor, Liz Traylor, Jay Monroe, Ladan Madresehee, Jackie Curran, Joy Pool, Rachna Arora Sharma, Radhika Murari, Mary Gould, Eleanore Tapscott, Nicole McGee, Kristen Lykke, Norbert Pink and Anna Jones.
We certainly couldn't put on this community event without our amazing volunteers.