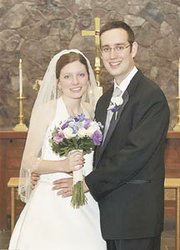 Christine Marie Schoonmaker and Mark Daniel Kipps were married May 23 at Centreville United Methodist Church.
The bride is the daughter of Mr. and Mrs. James W. Schoonmaker, Jr. of Centreville. The groom is the son of Mr. and Mrs. Wayne V. Kipps of New Market.
The Rev. Dr. Alan Felumlee and the Rev. Doug Sterrett, uncle of the bride, performed the double-ring ceremony. Rebecca Jackson was the organist.
Given in marriage by her father, the bride wore a floor-length white sleeveless gown with a halter neckline and a chapel-length train with sequins and beads. She wore a fingertip-length veil and carried a bouquet of white roses, blue delphiniums, blue hydrangeas and purple lisianthus with stems wrapped in her mother's lace.
Bridesmaids were Gillian Mescher of Elkridge, Md., Julie Shore of Centreville, and Anna Copenhaver of Yorktown, cousin of the bride. They each wore a floor-length periwinkle sleeveless gown with a V-neckline and each carried a bouquet of yellow stock and carnations with blue delphiniums and hydrangeas.
Groomsmen were Jonathan Egan of Hanover, Md., Michael Shore of Centreville, and Jacob Teter of Fairfax. The usher was James Schoonmaker of Centreville, brother of the bride.
The flower girl was Kaitlyn Grover, niece of the bride. Ring bearer was Adam Souder, nephew of the groom.
A reception followed at Stonewall Golf Club in Gainesville.
Prenuptial entertainment included bridal showers given by the bridesmaids and the groom's family and the rehearsal dinner given by the groom's parents at Heart in Hand in Clifton.
The bride is a 1999 graduate of Centreville High School and a 2003 graduate of James Madison University. She has a degree in biology and works in biodefense.
The groom is a 1997 graduate of Stonewall Jackson High School in Quicksburg and a 2002 graduate of Virginia Tech. He has a degree in Mechanical Engineering and is employed by Valley Engineering, Surveying and Planning in Harrisonburg.
Following a honeymoon to Hawaii, the couple is living in Harrisonburg.
More like this story