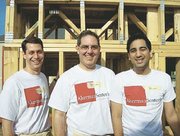 <i>To have business notes listed, send to mclean/greatfalls/vienna@connectionnewspapers.com. Deadline is Friday.</i>
Cucina 39's Executive Chef/President Keaton Hopkins announced that Whole Food Markets will sell four new gluten-free Italian pasta sauces produced by the McLean-based company. The sauces will be sold in 36 Whole Food stores throughout the Mid-Atlantic region, including the tri-state area. The all natural sauces sold in 24-ounce jars will be available in Marinara, Porcini Mushroom, Olive Caper and Garden Vegetable.
Fitness Together Tysons has hired Brigid McEvilly. She has an associates degree in general science and is currently pursuing her ACE certification. McEvilly has long been a competitive swimmer and equestrian. Currently she trains in marathon running and has run in the Marine Corp Marathon. She won her age division in 2007 for the DC Road Runners.
The Business Bank has been awarded a 2009 Fairfax Chamber of Commerce's Blue Diamond Award, and Brenda Tucker, the Client Manager of the Bank's McLean Branch, received the 2009 Greater McLean Chamber of Commerce Commitment Award. The company has achieved a Bauer Five Star rating since 2008 and has fulfilled customers' needs without sacrificing traditional old-fashioned personal service.
Louise Peabody, Member and CPA, of Watkins, Meegan, Drury & Co. of Vienna received the Founder's Award during the Women in Technology 10th annual Leadership Awards on May 21. The Founder's Award is awarded to a current member who has exemplified the WIT values in her work with the organization and her professional career.
Jim Henry has joined Leapfrog Solutions, Inc. of Oakton as chief operations officer. In his position, Henry will lead the firm's business development efforts and provide daily leadership and operational oversight.
Visit Fairfax, the official tourism organization for Fairfax County l, has chosen White+Partners as its new agency of record. The independent communications agency will handle all advertising, brand marketing and public relations for the convention and visitors bureau through July 2012. White+Partners will launch a full PR and advertising campaign later this summer highlighting the various ways business and leisure travelers can "connect" with Fairfax County.
Information Technology provider MicroTech of McLean has been recognized by the Virginia Chamber of Commerce as one of the fastest-growing privately-held companies in the state in the chamber's annual "Fantastic 50," the only statewide competition recognizing Virginia's fastest-growing private companies headquartered in the state. Rankings are based on a company's revenue growth over a three-year period and their most recent fiscal year's net profits.
Robert L. Hansan and Peter A. Kirsch were elected to the Advisory Board of The Business Bank, based in Vienna. Hansan is the owner of Bobby McKeys and Managing Partner of Duchess Investment, 720 Strategies, Magic Carpet Racing and B.E.G., a real estate partnership. Kirsch is Chief of Staff for the Offices of James V. Kimsey, founding C.E.O. and Chairman Emeritus of America Online.
Bookkeeping Express, the first U.S. franchise focused solely on bookkeeping services, announced that Keith Mueller of McLean has joined the company's Advisory Board and has invested in Bookkeeping Express Enterprises. As a member of the company's Advisory Board, Mueller will help guide the company's strategic franchise growth.
Financial representative Mark H. Siciliano of the McLean-based The Washington Group has been named as one of Northwestern Mutual's Top 20 in production for the year, and was honored during Northwestern Mutual's 2009 Annual Meeting in Milwaukee, Wi. Siciliano ranked sixth in premium policy sales among more than 7,000 Northwestern Mutual representatives nationwide.
Alion Science and Technology, an employee-owned technology solutions provider, has been awarded a $6.4 million contract by the Army to assist with research, analysis, findings and recommendations for the U.S. Army Enterprise Task Force (ETF) Director, giving a comprehensive view of Army infrastructure, processes and practices. The ETF executes the directives of the Army Secretary and Chief of Staff in developing this approach to Army decision-making and leads the adaptation of Army culture, organizations and processes.
More like this story