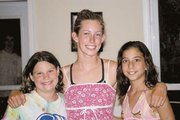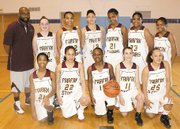 <b>Nationally Ranked</b>
The Fairfax Stars U-12 girls' basketball team recently traveled to Kingsport, Tenn. to compete against 64 teams from 27 states in the AAU National Championships. The team completed pool play with a 3-0 record and finished the tournament with a 4-2 record. Due to their excellent play, the Stars finished the year ranked 13th in the country. This is the second year in a row the team has made it to the tournament's round of 16.
<b>Kenna's Record</b>
The Brookfield Breakers completed their season at the Northern Virginia Swim League Division 7 meet on Saturday, July 25. In her final NVSL swim, Mary Kate Kenna broke her own team record in the 50-meter breaststroke with a time of 38.37 seconds. The Breakers will be sending three swimmers to the NVSL All Star Meet on Saturday, Aug. 1: Alexa Conti qualified in the 9-10-year-old girls' butterfly; Anna Kenna qualified in the 9-10 girls' individual medley; and Shannon Silsby qualified in both the 15-18 girls' backstroke and butterfly.
<b>Chargers Sign</b>
Two Chantilly baseball players, first baseman Brian King and shortstop Danny Bates, signed letters of intent to continue their careers at the University of Virginia's College at Wise. King hit .370 with six home runs as a senior on a baseball squad that reached the Northern Region semifinals. Bates, meanwhile, hit .413 with 21 RBIs and a .643 slugging percentage.
<b>Summer Camp</b>
Chesterbrook Academy Elementary School in Chantilly will host a Fit Kids T-Ball/Baseball Camp for ages 5-8 from Aug. 3-7. During the five days, campers will work on skills such as learning the correct batting stance, fielding, throwing and base-running, providing an excellent way to develop hand-eye coordination, balance and muscle strength. Call the school at 703-397-0555 to register.