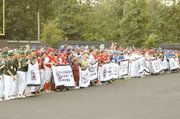 Bob Sottile is the District 10 Little League administrator, and he was a busy man as the Virginia Majors state tournament took place this past week at the Lincoln Lewis Vanoy Fields in Fairfax.
As 16 teams converged on the two fields to play a series of 24 pool play games and then a championship round Monday through Wednesday, Sottile oversaw the entire operation, which, by all accounts, has gone splendidly.
On Tuesday afternoon, following two semifinal games, Sottile talked with Centre View sports editor Jason Mackey about the entire experience.
<b>JM: So how has everything gone thus far?</b>
<i>BS: It's gone great. SYA has done a superb job. We had a little bit of rain that took two games out Saturday night, and we had to play them yesterday morning. That extended [the tournament] by one day, but other than that the umpires have been great, the weather has been great — hot, but it's been great — and I think everyone has had a good time.</i>
<b>JM: What sort of things do you look for in a tournament host?</b>
<i>BS: You have to make sure you have two quality fields that are lighted and have enough land around them so that you can set up things like an air conditioned trailer for the umpires. Because they get very hot and need to be able to change and go inside where it's cold to have their food.
One of the big hits, believe it or not, were the air conditioned bathrooms. I think I got more compliments on the air conditioned bathrooms than anything else because nobody had ever seen them before.</i>
<b>JM: Any special wrinkles for this tournament?</b>
<i>BS: I insisted that each league to host a tournament assign a family to a team. They become part of that team while they're here. The SYA families that did that went out of their way. Most of them had a special dinner for the team and all of their parents, or they took them out to dinner somewhere. They did laundry in a lot of cases and took care of forms for the players.</i>
<b>JM: What's been the most challenging part?</b>
<i>BS: Communication … just making sure that all of the teams get the information they need when they need it.</i>
<b>JM: What's been the most rewarding part?</b>
<i>BS: Seeing the kids out there playing baseball, and seeing the smiles on their faces is what it's all about.
There's only going to be one team leaving completely happy and that's going to be the champions. So we want to make the rest of it as home-like as possible for the rest of the teams while they're here so they have a good time. There can only be one champion, and there are 15 that are going to go away as a non-champion.</i>