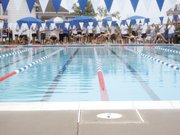 The sky was overcast and it began to drizzle as Bryan Nguyen, 9, was led in a single-file line to his swimming lane. He stood staring out at the 25 meters of light blue in front of him, shifting his weight anxiously. His goggles were pulled tight around his eyes. Just 25 meters and it would all be over.
"Swimmers, take your mark," said the man with the bullhorn. The horn sounded and the crowd began to roar. Nguyen leapt, and with a splash, his small frame shattered the water's plane. Suddenly, all was silent.
Nguyen would go on to win this event, the 25-meter butterfly, and perform well in every event he swam that day. But despite the youngster's speed, he was not a member of the Laurel Hill Tritons just so he could stockpile first-place ribbons.
"My favorite thing about the team is probably my friends," said Nguyen. In fact, when asked what he wanted to do competitively this season he simply said, "I don't care."
Although Laurel Hill has enjoyed success in the water, moving from Division 17 to 14 in just four years of existence, the attitude displayed by both swimmers and pool officials was that having fun comes before winning. One such pool official was team representative Tom Gemma.
"At summer swim, we want the kids to have a good time," said Gemma. "Competition and winning really are secondary for us."
While pool officials do their best to ensure everyone is having fun, it is the team atmosphere that makes summer swim enjoyable. That team atmosphere is often created by the older swimmers, who teach the youngsters both how to swim and how to be gracious in victory and defeat.
"When you teach them, you start with the fundamentals," said Danielle Gemma, 15, Tom Gemma's daughter. "We always teach them to be really good sports."
Whether they're being taught fundamentals, good sportsmanship or something else, the younger swimmers appear to be listening.
"They taught me how to dive in the pool correctly," said Kevin Mao, 23.
His friend, Nick Orsino, 13, has learned from older teammates as well.
"They motivate me to swim even faster," said Orsino. But perhaps the most important thing they taught him is "don't stop trying because you can always come back and win."
Team camaraderie brings the swimmers closer together, and when neighborhood children become friends, it provides an opportunity for everyone in the community to get to know one another.
"It's a neighborhood activity," said assistant team representative Carl Despiggelagre. "The night before our swim meets, we have a barbecue so the families can get together. It's also to set up the pool. It's social with a purpose."
Swim team provides a way for the community to connect and, in the eyes of Tom Gemma, a way for individual families to come together as well.
"Think about it," said Tom Gemma. "As a family event … this is the only sport where a family can come where all their children, whether they're 6 years old, 15 or 18, male or female, [they] can all swim together at the same time."
The bond the Laurel Hill community has developed was evident during their first meet of the year. As the day wore on, the opposing Little Hunting Park Gators began to pull away on the scoreboard, but children and parents alike remained to cheer on the Tritons. The majority of them even stayed through a nearly hour-long lightning delay despite having just six races remaining.
The Tritons could not mount a comeback against the Gators, and wound up falling in their first meet of the season, 217-184. Victory is always nice, but as Tom Gemma said, it is secondary here.
"Swim team has been a vehicle for parents to meet each other, kids to make new friends and everyone to come together," he said.
For a new community, that seems victory enough.