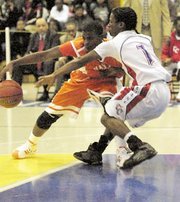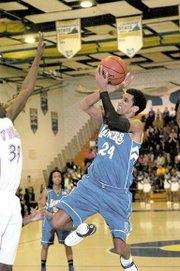 On Saturday night, Hayfield junior Brandon Winbush went up for a 3-pointer from the left wing and knocked down the shot. He was the hero, as Hayfield pulled off a 60-57 win over Mount Vernon in the Northern Region semifinals.
In the region title game Tuesday night, Winbush had nearly an identical look at the basket but missed the shot that would've brought Hayfield to within two points of T.C. Williams with 20 seconds to play. And even though he got his own rebound, a steal and coast-to-coast layup by Edward Jenkins of the Titans put the game out of reach.
With that miss, Winbush was left to experience a complete range of emotions at Robinson Secondary School, the highest of highs and the lowest of lows. T.C. Williams left with a 59-52 win over the Hawks and the school's third straight region title.
"I think I was a little too confident," said Winbush, who had 15 points against Mount Vernon but only two against T.C. Williams. "I had a bad night. I was cold, and I just couldn't get a feel for it. I think we did everything we could do, some things just didn't go our way."
Although Hayfield has successfully reversed course from last winter when it lost in the first round of the Patriot District tournament, the Hawks dropped to 21-7 by losing to T.C. Williams for the fourth time this season.
Hayfield's resurgence has come under the direction of second-year coach Ron Palmer, who, after a much-talked-about career as the head coach at Long Beach Polytechnic High School in California, has the Hawks nowhere near their six-win campaign of 2006-07 — the year before he took over.
"We're not out of it. We still have another opportunity," said Palmer, whose team will play the Central Region champion Friday night at Virginia Commonwealth's Siegel Center. The Central's title game, which features Petersburg and John Marshall, was delayed until Wednesday night, meaning its representative will have to play Hayfield 48 hours later.
"You also have to consider the journey that we're on," Palmer said. "We're gonna get there, and when we do, we're going to be handling people of this class because we have the talent."
<b>LEE SUFFERED</b> a 79-61 loss to T.C. Williams last Saturday night in the second boys semifinal game at Robinson, ending the Lancers' two-game run through a treacherous part of the region bracket where they posted wins over Liberty District champion Langley and Concorde runner-up Westfield.
Against T.C. Williams last Saturday, senior Frank Holloway Jr., who played for the Titans his freshman year before transferring to West Potomac for his sophomore and junior seasons, tallied a team-high 16 points and 12 rebounds.
"A lot of people doubted us, but we just knew as a team that we could get here," said Holloway, a 6-foot-5 senior forward who has received interest from Virginia, Radford and Maryland-Eastern Shore. "We tried to come out with some intensity, but it just didn't happen."
Lee crept to within three at 50-47 with 6 minutes, 9 seconds remaining in the fourth quarter when junior Fenan Woldu (nine points) converted a layup and was fouled. Woldu missed the free throw and T.C. Williams answered with a 15-6 run to pull away.
After starting its season with a pair of wins, Lee lost four of its next five games. But after winning five straight Patriot District contests during the month of January, Lee again found its rhythm. The Lancers finished with an overall record of 14-11, 9-8 against district foes.
Dimitri Sakellarides (12 points), Yoonis Abdulle and Jose Mejia will be lost to graduation, while Lee's top returner, Walter Griffin, totaled 15 points by hitting five 3-pointers against T.C. Williams. He tied Holloway Jr. for the team-lead in rebounds with 12.
"I thought mentally we got a lot tougher as the season wore on," coach Mike Harris said. "We went through some growing pains at the beginning of the year, but once we started ironing those things out, guys were banged up a little bit but they persevered and did a good job."