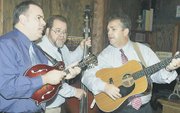 Get your fiddle and banjo and come down to a Bluegrass Jam at the Heritage Farm Museum of Loudoun County Sunday, March 8, from 2:30-4:30 p.m. Join local musicians for an afternoon of impromptu music and fun. The event is free to visitors who bring a musical instrument; regular admission is $5 per adult, $4 per seniors and $3 for children ages 2-12.
"Jam sessions are part of a tradition for bluegrass where musicians come together and jam," said Mary Novotny, manager of Heritage Farm Museum. "It's to have fun and transmit skills and learn how bluegrass has been played."
She said in western Loudoun, there are a few bluegrass jams that are regularly scheduled with lots of bluegrass musicians, but not any regular jams in eastern Loudoun. On the first and third Sundays, Frying Pan Park in Herndon has scheduled bluegrass jams, so the Heritage Farm Museum scheduled theirs on the second and fourth Sundays.
"If you're a musician, you come and you get in free with your instrument," said Novotny. Because the program is fairly new, they've had three musicians in the last two sessions. Randy Collins, the lead player for Flint Hollow, played the first week. Last week Barbara Grupe brought her fiddle out. "As the word gets out, I'm hoping to have more people here," said Novotny. "I'm hoping to have a dozen people by this summer."
She added: "It's an opportunity for us to create a little community in eastern Loudoun for people who want to learn more about bluegrass and who want to participate."
More like this story