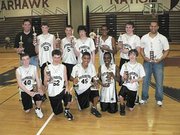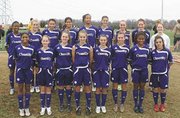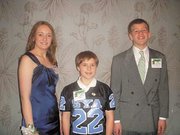 <b>SYA Velocity Captures Title</b>
The SYA Velocity defeated Alexandria in the final game of its end-of-season tournament to win the 13-year-old Division 2 championship of the Fairfax County Youth Basketball League and Christian Gray was named the tournament's Most Valuable Player. The top 12 teams from around the county earned berths to the tournament based on their records upon completion of the regular season. The Velocity had a record of 24-1, which included wins in both the Braddock Road Youth Club Thanksgiving and Holiday Tournaments. Additionally, head coach Bernard Gray was voted the league's Most Valuable Coach and Sam Clark was voted Most Valuable Player. Christian Gray and Lamar Hardy were All-League selections.
<b>Firecats Start Strong</b>
The Chantilly Firecats, a girls 14-U soccer team, opened their season on Sunday, March 8 with a 2-0 win over the 2008 Maryland state and regional champion Bethesda Freedom at the SoccerPlex in Germantown. The Firecats scored 21 minutes in the first half and, while both teams re-grouped at the half and came out aggressively in the second half, the Firecats were able to score their second goal at the 11-minute mark. Danielle Fitzgerald scored both goals, while Haley Roberson assisted on the second tally. The Firecats compete in the Region 1 Premier league, which consists of talented teams from Pennsylvania, New York and Maine. The team is coached by Nadir Moumen of Total Futbol and is sponsored by Dr. Crutchfield and Glory Days Grill.
<b>SYA Registration Open</b>
Registration for Southwestern Youth Association (SYA) summer sports is now open. Register online at www.syasports.org. Summer sports include basketball, travel basketball, rugby and track and field. For more information, contact the SYA office at syaboard@verizon.net or visit the SYA Web site, www.syasports.org.
<b>Nereids Shine at Have-A-Heart</b>
The novice, intermediate and 12-and-under age group teams of the Northern Virginia Nereids synchronized swimming club opened their competition season on Sunday, Feb. 22 at the Have-A-Heart Invitational in Laurel, Md. Top performances by the Nereids propelled them past other teams from Pennsylvania, Maryland and Virginia.
The 12-and-under age group dominated the team routine competition, besting both the Potomac Valley Pearls and NoVa Synchro to earn first-place honors. Swimming to a tropical theme, the Nereids' earned the second highest team routine score of the entire meet. The duo of Ashley Eberly and Stephanie Satterlee and the trio of Connie Polnow, Leina Thurn and Mikaela Voegele both took second in their respective divisions.
In the 13- to 15-year-old intermediate age group, the Nereids took the silver medal in team routine competition, missing the gold medal by less than a point. In the 11- to 12-year-old age group, two teams placed third and fifth.
The 13- to 15-year-old intermediate trio of Roha Poputya, Erika Carlson and Julia Guidry placed second. Furthermore, Carlson is only 9 and Guidry is 10.
The novice duet of Miya McDonald and Maja Guidry was the highlight of its respective competition, taking first place by a sizable margin with a routine set to the music of "Kung Fu Panda."
The Nereids are the oldest and largest competitive swimming club in Northern Virginia. The team is comprised of swimmers between the ages of 7 and 18 from all over the Washington, D.C. area. For more information on the Nereids, visit the organization's Web site at http://www.nvnsynchro.com.
<b>Hoops Team Seeks Players</b>
The BRYC Tar Heel AAU basketball program is seeking players and coaches for the upcoming spring-through-summer season. For more information, visit www.brychoops.org or www.tarheelsbasketball.org for tryout dates and program information. Contact Jim Watson at 571-243-4142, Parker Roach at 703-627-0380 or Rocky Carter at 703 855-7614 for additional information.
<b>CHADD Offers Martial Arts Program</b>
Children and Adults With Attention-Deficit/Hyperactivity Disorder (CHADD) will offer a program titled "Martial Arts for Kids with ADHD" on Wednesday evenings throughout March. The program is free and will focus on aspects of Tae Kwon Do and Brazilian Jiu Jitsu, as well as grappling and wrestling. The program will be taught by the chief instructor at Carl Runk's World Karate and by an award-winning high school wrestler, grappler and Brazilian Jiu Jitsu competitor who was diagnosed with ADHD 10 years ago. The program will run from 7:30-8:15 p.m. at Carl Runk's World Karate at 9537 Braddock Road. To register, visit www.novachadd.org.
<b>Hockey Teams Seek Players</b>
The American Icebirds, a AAA ice hockey team, are looking for players ages 14 to 18 in all positions for spring and summer competitive tournament play that runs from May to July. Interested players should call 703-400-2343 and ask for coach Kulla or send an e-mail to icebirds@inbox.com.
<b>Football Summer Camp</b>
The NOVA "NFL" Youth Flag Football League will conduct its 12th annual Flag Football Summer Camp in Ashburn the week of June 22-26, with a second week Aug. 3-7. Both camps run from 9 a.m.-12 p.m., for children ages 6 to 12. The camps, aimed at teaching football in a fun environment, will feature experienced adult head coaches as instructors, local high school and college football players as camp counselors and visits by current and former Washington Redskins and other guest speakers. The camps will conclude with end-of-the-week flag football games and a speed, power and agility training session performed by certified fitness instructors from Dynamic Sports Performance. The camp will include visits by current and former Washington Redskins players and other guest speakers. To register, visit www.novaflag.com.