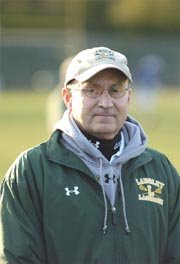 This year's Langley High boys' lacrosse squad is talented and team-oriented, according to veteran Saxons' head coach Earl Brewer. So, matching or bettering the success of last year's 12-4 outfit that captured the Liberty District title is certainly a possibility.
"I have very high expectations that they'll do a lot of the same things that last year's team did," said Brewer. "We have a lot of unselfish players who will give the ball up."
Last year's season ended with a tough 6-5 loss to eventual state runner-up Oakton in a second round Northern Region playoff game. The Saxons, who earlier that postseason had beaten Woodson, 8-3, in the district tournament championship game, and West Springfield, 11-2, in a first round regional playoff contest, barely fell to the talented Cougars.
"I know we were disappointed last year to lose to Oakton," said Brewer. "But Oakton was good. They lost to Chantilly in the state finals."
Brewer, in his 15th season at the helm of the program, has directed Langley to region championship games three times — in 1995, 1998 and 2005. The Saxons lost all three of those title game affairs.
"We're yet to win [a region championship game], but I'm always optimistic this will be the year," said the coach. "I think we're going to be an exciting team to watch. We're quick and will get up and down the field."
<b>LANGLEY</b>, which will open the new season on Thursday, March 19, at Marshall High, will be led by its four team captains — seniors Trevor Shafran, Alex Devlin and twins Galen and Jeremy Kuney.
Shafran, a 6-foot-3 inch, 240-pound defender who has already committed to play the sport at the Naval Academy next school year, is coming off a junior season in which he earned First Team All-District and Second Team All-Region honors.
"He's just an all-around great athlete," said Brewer. "He has great speed, endurance and quickness and will [defend] the best attacker on the teams we play. Trevor loves that [challenge]. He's a good leader too, a good student and an all-around great kid."
Devlin, meanwhile, is coming off a junior season that saw him earn Honorable Mention All-District accolades. A three-sport athlete (basketball, football and lacrosse) at Langley, Devlin excels for Brewer's squad at a midfield position.
"He's kind of a throw-back midfielder," said Brewer. "He plays both ends of the field equally well. In crunch time, I'd want Alex in the game on defense. He does really smart things. He works hard [both offensively and defensively] on his game."
The Kuneys bring talent and toughness to the Saxons' line-up. Galen Kuney will be a third-year-starting goalie for the Saxons this spring. He was both a First Team All-District and Second Team All-Region selection last year.
"As a sophomore [two years ago] he stepped up and won the job and has kind of gotten better every year," said Brewer. "He's quick and makes good decisions with the ball. His strength is his clears."
Jeremy Kuney is a solid midfield player.
"He's a tough, hard-nosed kid who gets a lot of groundballs," said the coach. "He is physically tough and not afraid to stick his nose in there. He's a guy that leads by example and goes after it."
<b>FOLLOWING</b> this week's opener against Marshall, Langley travels next Wednesday to cross-town rival McLean. That evening will be a girls'-boys' double-header between the Saxons and Highlanders, with the girls' contest set to begin at 6 p.m. and the boys' game tabbed for about 7:30 p.m.
In a few weeks, Langley will participate in West Springfield's spring break tournament, set to take place April 6-8. The eight-team field will include Loudoun Valley, Broad Run (Dulles District), Potomac School (private school in McLean) and the host Spartans, who have a nifty turf field facility on which to play.