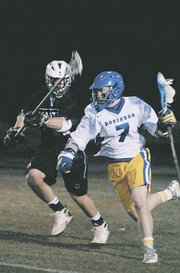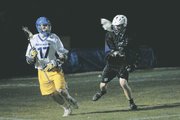 With its sprawling campus tucked behind rows of trees off of Sideburn Road, Robinson Secondary School provides a bit of a respite from the outside world. But when it comes to athletics, such anonymity is nowhere to be found.
When fifth-year coach Justin Fitzgerald took the defending Virginia AAA state champion Chantilly boys' lacrosse team to triple overtime Monday night and lost, he offered no moral victories or rah-rah pep talks, just a silent stream of players walking toward the locker room, heads down.
"There's always a little bit of pressure at this school, but I think that's why you enjoy coaching here," said Fitzgerald, whose team suffered a 6-5 defeat to Chantilly, falling to 2-3 on the season.
Since lacrosse was first recognized as a Virginia High School League championship sport three years ago, Robinson has been a fixture at the top, winning back-to-back state titles in 2006 and 2007.
Last season, Robinson endured a 7-6 loss to Annandale in the Northern Region semifinals, crashing expectations many had for a third state title. This year, with a talented group of midfielders returning, Robinson has been trying to figure out how to regain that 2007 form.
In Fitzgerald's words, senior middie Daniel McNulty is the "catalyst" for Robinson's offense. During the game against Chantilly, he set up the Rams' first four goals, the first three scored by freshman attackman Alex Barber.
Robinson will also look to senior middies Porter Lloyd and Chase Walton, along with senior defender Justin Hinton and goalkeeper Kenan Kevan. Walton scored the Rams' fourth goal to give them a 4-1 halftime lead, while Lloyd made it 5-2 with 6 minutes, 18 seconds left in the third period.
But even though Fitzgerald is confident that his team can use Monday's loss as a learning experience for the rest of the season, little that can be done about the increasing amount of parity in the Concorde District —far and away the Northern Region's toughest.
Since that 2006 season, all six state finalists had Concorde roots.
"There's a lot more kids playing lacrosse these days," said Fitzgerald, whose team will travel to Centreville on Friday. "I think Chantilly has worked exceptionally hard to get where they are. For us, it's no different. We need to keep focusing on what we need to do rather than other teams."
<b>JEFFERSON,</b> with the help of senior middie Stefan Kowalski, will take aim at W.T. Woodson and Langley in the Liberty District. Kowalski picked up 75 ground balls last year while also adding 31 goals and 20 assists.
Junior attackmen Collin Hennegan (26 goals, 11 assists) and Liam Carter-Condon (seven goals, six assists) also return for the Colonials, who went 4-10 last spring and dropped a 12-9 decision to Annandale in the first round of regionals.
On the girls' side at Jefferson, fourth-year coach Victor Chen admits that this may be "a rebuilding year." While the Colonials went 10-4 overall and 4-3 against district opponents in 2007, they lost middies Katherine Hempenius and Mary Anderson and defenders Katherine Sourbeer and Jessy Shelton.