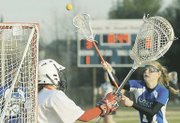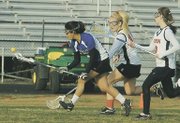 There's no doubt girls' lacrosse is alive and kicking in the Alexandria area. Just check out the preseason watch list for this year's Tewaarton Foundation Award, a season-ending honor bestowed on the area's best lacrosse player.
There are seven girls from Alexandria's three private schools listed, more than any other area in Northern Virginia. And yet, peruse the list for a player from T.C. Williams and the search will be for naught.
'Tis the fate of a program playing in the shadows of perhaps the area's best team (St. Stephen's/St.Agnes), its fastest rising (Bishop Ireton), and a potential division winner (Episcopal) — not that it bothers the Titans all that much.
"They're a half-mile away, but it feels like they aren't even there," said T.C. Williams coach Jillian Clacherty after her team improved to 3-1 on the season with a 16-8 victory over Edison Tuesday night.
The main difference between the private and public ranks around Alexandria is experience. At schools like SSSAS and Ireton, athletes play lacrosse year-round on club teams and in general have the sport embedded in them from a young age. At public schools, many players pick up sticks for the first time as freshman and sometimes even later.
But this year has brought a welcome change to that stigma, as Clacherty has the benefit of four four-year varsity starters in seniors Linzi Burstein, Megan Miller, Allie Clark, and Jess Raugitinane — all of whom should compete for all-region postseason honors.
Throw in the addition of one-year exchange student, junior midfielder Anna Kopekca, who was previously a member of the Czech Republic U-19 National Team, and these Titans have the makings of team that could do some damage within the Northern Region this season.
"We have a really strong starting lineup," said Clacherty.
It was on full display Tuesday as T.C. Williams blew open a 3-3 game early in the first half by scoring 11 of the contest's next 12 goals. Leading the charge were Clark (four goals, two assists), Burstein (four goals, three assists), and Kopekca (five goals).
The Titans take on Lake Braddock Wednesday, after the Gazette Packet's deadline.
"I think we just have to get in the mindset that even if we didn't beat a team last year that it doesn't mean anything for this year," said Burstein.
<b>ITS DOMINANCE</b> of the area girls' lacrosse team has gone on for so many years that long-time St. Stephen's/St. Agnes coach Kathy Jenkins can't even remember the last time the Saints didn't win the ISL title. But coming off an undefeated state championship season last year and with eight returning seniors signed on to play Division-I lacrosse next spring, conference championships are just one of this team's goals.
Of those eight seniors, four made the Tewaarton watch list, including attack Kelly Austin (Virginia), midfielder Charlotte Davis (Princeton), midfielder Ashley Hunter (Georgetown), and goalie Louise Fauth (Notre Dame). With so much talent across the board, Jenkins knows the question isn't how much skill her team has, but how well that skill comes together as it pursues yet another VISAA state title.
"I think chemistry is huge," said Jenkins. These seniors don't want to be the ones to end the streak, but there are a lot of teams out there that want to beat us."
<b>BISHOP IRETON'S RECENT</b> resurgence could some day mean there will be a challenger to SSSAS on the Alexandria girls' lacrosse scene. Under coach Steve Telas, the Cardinals have surged from a middle-of-the-pack WCAC squad at the beginning of the decade into one of the area's best after a second-place finish in the always-tough WCAC a year ago.
The Cardinals have been to the WCAC title game three of the past six years, but have come out with no championships. Telas will count on seven seniors signed on to play Division-I lacrosse next spring to get them to that next level of success. Most notable amongst them are Tewaarton watch list members Lauren Gray (Georgetown) and Claire Banta, both of whom play on defense.
Ireton has started the year 3-1 with an impressive win over Northern Region juggernaut Robinson. The Cardinals lost to SSSAS, 18-7, two weeks ago.
"This team fears no one and respects everyone, which is the perfect situation for a coach," Telas said.
<b>OVER AT EPISCOPAL</b>, the goal is to get out of the lower division of the ISL and back into the upper AA league. The winner of the A division moves up, while the last place team in the AA division moves down.
Episcopal will have to do it without its star player from last year's 12-9 campaign, Lindsey de Butts, who is currently a starter at Princeton. Coach Jen Seferiadis will count on a trio of seniors — Kelsey Knutson (defense), Jenna Oates (midfield), and Carly Linthicum (midfield) — to lead a talented group of underclassmen. Linthicum is on the preseason Tewaarton watch list.
"We've really been trying to push our girls early to see what the level of competition is and where we want to be," said Seferiadis, whose team has started the year 1-2 against a tough schedule.