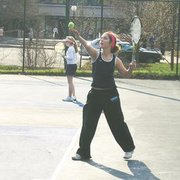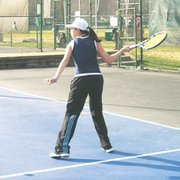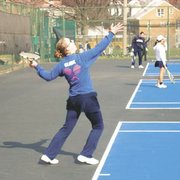 It's not that Yorktown girls' tennis coach Natalie Roy isn't excited about her team's chances to reclaim the National District title from Arlington rival Washington-Lee this season. In fact, the opposite is true after the Patriots won all nine matches against the Generals last Friday to give themselves a head start on the 2009 district crown.
But Roy is most intrigued by the influx of international talent that has seemingly fallen into her lap this season. Already stacked with strong players, Yorktown has seen itself dominate the early portion of this season thanks to additions like freshmen Esu Erdenebat (No. 2 singles) of Mongolia and Angela Laing (No. 4 singles) of China.
Considering the Patriots' No. 3 singles player, senior Lydia Getachew, is of Ethiopian descent and reserve Jessica Guibordeau recently came from La Rochelle, France, it's no wonder the coach is fascinated by the whole situation.
"I think it's just awesome," said Roy after her team made its presence felt within the National District amidst a cold and blustery wind at Quincy Park. "I don't think they even notice it, which is actually even more interesting. They're younger and it's natural. You're from Beijing, big deal. You're from France, you're from Mongolia, who cares? It just shows the change in society."
In total the Patriots have players from five different countries, including Bolivia and Thailand, and numerous others of foreign descent. But that hasn't meant the results have changed much. Yorktown and W-L have split the past three National District titles, with the two teams sharing the crown in 2006. After last Friday the Patriots made it known that likely won't be the case this season.
Led by No. 1 singles player Emily Flichinger, a sophomore from nearby H.B. Woodlawn High School (the school doesn't have high school athletics) and talented newcomer Erdenebat, the Patriots lost more than five games just once in the first-to-10 games format of singles play.
Getachew was a key member of last year's team, and along with Flichinger, almost made it to the regional tournament for doubles. Now the team's No. 3 singles player as well, she marvels at just how much the team has changed over the course of one season. Last year, four of Yorktown's top-six players were seniors.
"It's completely different," she said. "But I think the team is stronger this year just because younger kids like Esu are amazing. We didn't even know they were coming, it felt like they just appeared. But it's great having such a diverse group of teammates."
<b>OVER AT W-L</b>, the loss of longtime coach Loronzo Alexander has effected the most change for the Generals. Alexander lost a lengthy battle with cancer this past fall, but ended his 18-year coaching career with a National District title last spring.
New coach Sam Hughes knows replacing Alexander won't be easy, but it's a challenge he's embracing as he tries to build as strong a relationship with his players as his predecessor had.
"They've been accustomed to a long-term coach here and they've had some success, so I feel some responsibility to continue that success and I think the best way to do that is to at least try to build rapport with them so we get to know each other," said Hughes, who is also a pro at East Potomac Tennis Center in Washington, D.C.
Before losing to Yorktown, W-L defeated Edison last week, 8-1. Hughes was quick to praise No. 6 singles player, senior Laura Gorsky, for her strong play in a losing effort to Yorktown's Ellie Berlyn.
"It's a new dynamic, new coach and we've done pretty good so far," said Gorsky, the lone senior in the W-L starting lineup. "We lost a bunch of girls from last year, so we'll see where the program ends up in a year or two."