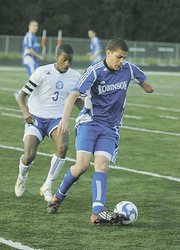 During cold weather games, such as the one his soccer team played Friday, March 27, at Westfield, the long, white sleeves that Robinson junior Jose Noriega wears under his jersey often stretch out and droop down over his right hand.
It doesn't bother Noriega. He just lets the excess cotton fall over his hand, rarely giving it a second thought. The left sleeve, well, that's something that Noriega deals with a bit more frequently. But it's nothing that concerns the talented player or makes him alter his game.
Noriega, a midfielder, was born in Peru and without the majority of his left arm. He has always played and loved the game of soccer and has never let his left arm become a detriment to his game.
"I really think I'm a normal kid," said Noriega, who started for the Rams' Virginia AAA state runner-up squad last spring. "I just look at myself like I'm a complete kid."
Noriega moved with his family from Peru to the United States on May 13, 2005. Less than three years later, Noriega, along with his teammates, met their soon-to-be head coach, Jac Cicala, who took control of the program after successful stints at George Mason University and Centreville High School.
Cicala asked Noriega if he had any limitations or things he should know about.
"Just let me play coach," Cicala remembers Noriega telling him. "I can do it."
<b>THE MORE</b> Robinson's second-year coach has watched, the more he's been amazed. While it's easy to dismiss soccer as a game in which one's feet are the only necessary body parts, Cicala pointed out that much more goes into to kicking a ball.
"When you set up to kick a ball, you need your arms to balance," Cicala said. "When an opponent is coming on you, you need your arms to balance off the defenders. He's able to do it. I think it's just because of his lower body strength."
Though he scored two goals and added a few more assists last spring, Noriega has been "much more dynamic," so far this year, Cicala said. During a 5-0 win over North Stafford on March 18, Noriega scored twice. He also has three assists already this season.
Noriega doesn't mind discussing his physical condition, encouraging any and all questions about whether he was born like this, what the situation is like to deal with and whether he faces any away-from-soccer issues that having no left arm might produce.
For example, if one of Noriega's shoelaces comes untied before a game — he makes sure they don't come untied during the game — one of his teammates will lace it back up. While Noriega is appreciative, he's also quick to point out that he doesn't need the help. His teammates simply do a better job.
His best work, it appears, is saved for game time. Noriega isn't a quiet player. He runs around, agonizes over referees' calls and constantly calls for the ball. It's all part of a passion that he plays with, something that was developed a long time ago as a response to his disability, which really doesn't disable a thing.
"I play very hard, and I play with passion," said Noriega, whose squad traveled to Herndon for a game Wednesday night, which ended too late for this edition. "I never want to regret not doing something in the field. When given the chance, I just go all out. I don't think about what's around me. I just play for the fun of the game."