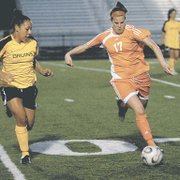 Though it might look appealing, like Amalya Clayton is streaking past the opposing defenders and creating several scoring opportunities for her team, what the senior forward brings to the West Springfield girls' soccer team happens as much out of panic as it does because of her own athletic ability.
Clayton is fast, very fast. During the 2008-09 indoor track and field season, she set a personal-best mark with her 55-meter time (7.49 seconds) at the Patriot District championships on Feb. 7 and placed second. She also placed second in the triple jump during that same meet.
Although the Spartans enjoy Clayton's speed, lofting a ball for her to run down isn't necessarily how the team's offense works. Often, according to first-year coach J.T. Alukonis, West Springfield gets hemmed in its own end, panics and then looks for the most enticing option, which is typically Clayton.
"It's really a last resort that sometimes she runs the way that she does," said Alukonis, who was the boys' junior varsity coach last spring. "It's not what we want to do, but, at periods and sometimes to relieve pressure, it works."
The constant running leaves Clayton out of breath, not that she really minds.
"It's kind of tiring," said Clayton, who scored the first goal during a 3-0 win over Lake Braddock on Tuesday night, March 31, helping the Spartans improve to 4-1-1 overall, 2-0 against Patriot District opponents this season. "But if it helps us score, I'm up to it and I'll do it."
<b>WITH THE GRADUATION</b> of forward Erika Gleason and midfielder Brittany Klippstein, Clayton's emergence has been imperative. Though the Spartans have transitioned to a new coach with Alukonis, hardly a beat has been missed since the departure of six-year boss Kellie Mastrodonato.
West Springfield went 12-4-3 last spring and upset South County with a quadruple-overtime win in the Patriot District title game. The Spartans were knocked out of the following week's Northern Region tournament in the first round by Stone Bridge.
Alukonis credited his four captains, Clayton, along with seniors Katie Scanlon, Jessie Gonzalez and Katie Harrison, for their help with making the transition as smooth as possible. But, after opening the season with a 2-2 tie at Stone Bridge on March 12, West Springfield dropped a 1-0 decision at Centreville on March 16.
In the first half against the Wildcats, West Springfield allowed a goal, which isn't exactly front-page news, other than the fact that the team has yet to allow one since. In what equates to more than 360 minutes of play, the Spartans have outscored their opponents, 10-0.
Against Lake Braddock, the game was scoreless at halftime, but Clayton changed that less than eight minutes into the second half. Then in the game's 56th minute, Gonzalez scored from 30 yards out and junior midfielder Julia Stejskal closed the scoring in the 73rd minute with her tally.
"The most positive thing is that we're not giving up goals right now," said Alukonis, whose team will travel to Lee on Thursday night. "It's a long season, so we're gonna put things together piece by piece, and, come playoff time, we're gonna be ready."
And, hopefully, not ready to give Clayton another workout. She's had enough.
"We like to use the center mid [fielders] to feed her the ball so she doesn't have to waste her energy on everything," Gonzalez said. "At points when we do make her run, it's because we're bypassing the midfield. But we're working more on it."