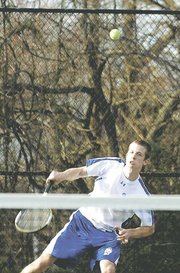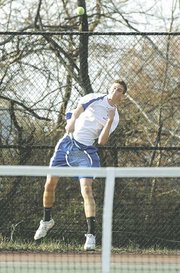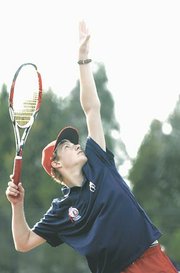 Singles play had just gotten under way during Tuesday's boys' tennis match between T.C. Williams and West Potomac, but Titans coach Mike Vitez already had an inkling as to how this contest would be won.
"This one is gonna come down to the doubles," said Vitez. "I can already see it."
Lo and behold, a few hours later a small crowd of parents and teammates had moved steadily towards the far side of the tennis courts as the No. 1 doubles teams of T.C. Williams and West Potomac went head-to-head with the results of eight other matches riding solely on the outcome of one final contest.
With the team score deadlocked at four apiece, the pressure was squarely on the shoulders of the Titans' duo of seniors Max Rickett and Evan Hulehan and the Wolverines' top doubles pairing of senior Forrest Allen and sophomore Alex Cheng to break the stalemate.
Luckily for T.C. Williams, Rickett and Hulehan knew shying away from the limelight just wouldn't work. So they embraced it.
"With a match like this, you can feel the pressure, but I just love the rush," said Rickett after he and Hulehan remained undefeated in doubles play this season with a 10-8 victory that gave the Titans a 5-4 team win.
"When the pressure's on, it just feels more rewarding to win," said Hulehan. "And the adrenaline is awesome."
That they won was a testament to their resiliency. Earlier during single's play, "nothing was working" for Hulehan as West Potomac's No.1 Cheng made easy work of him, winning 10-0. But between matches, Hulehan took the court with an assistant coach to get his strokes back in order.
<b>THE EXTRA SESSION</b> paid off later when Hulehan and Rickett trailed, 6-5, in doubles. As Cheng and Allen succumbed to the spotlight, falling victim to some costly unforced errors, Hulehan and Rickett just stayed consistent throughout.
"In doubles you can always rely on one another to keep spirits up," said Hulehan. "Even when we were down, we came back."
But those two weren't the only success stories in the Titans' close call. The main reason Hulehan and company had all the pressure was the play of T.C. Williams' No. 3 doubles team of junior Scott Cohen and senior Abe Bekele. The two made easy work of West Potomac's Penpet Wongkaw and Drew Sanders, winning 10-4.
Cohen also won his No. 4 singles match against Wongkaw, 10-7. Cohen led 6-3, but watched that margin disappear when Wongkaw tied it up 6-6. But Cohen regrouped to win four of the last five games.
"In one of these matches where it could go either way, you can't get ahead of yourself," Cohen said. "No matter who you're facing you should carry yourself the same way because if you get cocky that's when you lose."
<b>THE TITANS'</b> lone loss in doubles play came from their No. 2 pairing of senior Tarik Rattir and freshman Kyle Hairston, but it was the duo's first loss all season. Both Rickett and Tarik also won their singles matches in the No. 2 and 3 singles slots, respectively.
With the team win, T.C. Williams improves to 6-1 on the season, their lone defeat coming in a close 5-4 loss to Lake Braddock on March 18. The Titans get a chance at redemption Thursday when they take on the Bruins again, after the Gazette Packet's deadline.
"I have a lump in my stomach because we were that close to losing," said Vitez after Hulehan and Rickett pulled out the doubles victory. "But the true mark of a champion is your ability to handle pressure under intense conditions and they do it all the time. It's amazing."