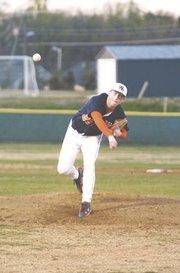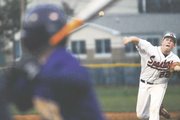 West Springfield's Mike Kent has thrown his final warm-up pitch, and his catcher Tucker Tobin has chucked the ball down to second. Trevor Snook, the shortstop, turns toward the outfield and flips the baseball to second baseman Bubba Self.
Third baseman Charlie Morgan, after receiving Self's throw, walks the ball over to Kent. The Spartans huddle briefly and when the conference dissipates, Kent, with his back turned, heads to the back of the pitching mound, takes off his hat with his right hand, wipes his brow and thinks.
"It's just my way of getting in my own zone, focusing and blocking everything out," said Kent, of the before-every-inning ritual. During this momentary period of concentration, Kent stares down at his hat and a series of writings that appear underneath its bill -- none of which he wanted to divulge.
"I don't care who's in the stands," Kent said. "That doesn't matter to me. I just turn my back, look at my hat and always stay focused on the goal, which is getting every batter out."
Kent has done that for three years with remarkable consistency, a level that has landed him with a scholarship to Clemson University and has other signs pointing toward this summer's Major League Baseball draft. But Kent isn't selfish. He doesn't want to worry about that stuff now. Currently, nothing is more fun for him than what happens next.
<b>WALKING UP TO</b> the pitching rubber, Kent feels most at home now. He started playing baseball at age 5 and hasn't stopped. He plays all year round, not because he was pushed into it or pressured, but because he loves the game. He can't envision himself doing anything else.
Kent started pitching at 10 or 11 and was hooked. After Kent's freshman season on West Springfield's baseball team, longtime coach Ron Tugwell picked him for a travel baseball team that he was coaching, with the understanding that the coach needed the player for one thing: pitching.
"I wasn't going to hit. I wasn't going to play the outfield or anything, and from there I just loved pitching," said Kent, who has a career mark of 19-9 in 163 innings, with 168 strikeouts and an average ERA of 1.36. "That's all I wanted to do."
Tobin, squatting at this point, has four pitches to pick from: fastball, curveball, slider or changeup. Kent's fastball registers between 89 to 92 miles per hour on most radar guns and his curveball and slider often defy physics. All four pitches can appear at any time in the count for a strike, a recipe for disaster with which Kent thoroughly enjoys cooking.
"I love to make hitters look foolish up there," Kent said. "I try my best to do that."
West Springfield pitching coach Julio Rivas believes that Kent understands his craft more so than any other pitcher with whom he's worked. Often during practice, Rivas, required to work with the entire pitching staff, won't see a mistake Kent is making with his mechanics. So Kent will point it out and tell Rivas, who then watches the diagnoses unfold before his eyes.
"From all the pitchers I've had, he's probably the smartest pitcher out there," Rivas said. "He's like a second pitching coach."
<b>NOW WITH</b> Tobin's sign, Kent steps back with his left foot and then turns his right at a 90-degree angle, parallel with the rubber. His left leg kicks into the air. As Kent drives toward home plate, he drops his right leg and pushes his entire body forward.
Kent is able to do this better than most because of the grueling workouts that he and the rest of West Springfield's pitching staff complete willingly under Rivas. In what is standard practice, Rivas believes wholeheartedly in running, both for conditioning and recovery purposes.
After starts, Spartan pitchers must run sprints along the outfield fence. They usually are assigned between 14 and 16, although that number varies based on pitch counts. The day after a start, Kent will run a series of short-burst sprints. Those are mixed with sets of pickups, a brutal drill in which pitchers slide from side-to-side, knees bent, and pick up balls that a coach rolls at them.
"Mike's work ethic … he's just a horse," Rivas said. "I never have to tell him what to run. It's awesome because I have him, and I don't even have to tell the other guys. They just look at him, and it makes it easier for me. He's a pitching coach's dream."
So Kent plows forward and unleashes his trademark fastball, a pitch that, along with the rest of his repertoire, has propelled West Springfield to a 14-4 mark this season. Behind Kent's 5-1 record with 49 strikeouts and a 0.88 ERA, the Spartans are also 12-0 against district opponents, with a home game against Annandale Friday.
With Kent, junior lefty Bobby Wahl (Ole Miss), center fielder Bryn Renner (recently switched from shortstop) and third baseman Charlie Morgan, the Spartans have a Murderer's Row of sorts that should concern any opponent.
Once Kent's fastball pops Tobin's glove for strike one, the hard-throwing Division-I recruit is back to doing what he loves the most.
"My goals are right here with my team," Kent said. "I love all of my teammates, and I can't be thinking about the draft or Clemson. Those will come when they come. This is here and this is now."