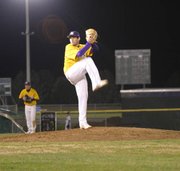 When senior pitcher Shane Halley went down with a forearm injury during the preseason, Lake Braddock baseball head coach Jody Rutherford found himself without his two starting pitchers from the Bruins' 2007 season. Already dealing with the loss of all-region pitcher Sean Chitsaz to graduation, the injury to Halley, who finished last season with a 6-1 record 55 strikeouts, left the Bruins with an unproven pitching rotation.
It didn't take long for the Bruins to find themselves a proven pitcher.
Junior Brian Derner, who was the ace of the Bruins' junior varsity squad last year, has posted a 4-0 record this year with 26 strikeouts and sports a .880 ERA. Derner has become the Bruins go-to hurler on the bump – beating West Springfield twice, as well as shutting down South County and Hayfield.
"Brian has come out and he has matched some of the best pitchers in this area," said Rutherford. "When Shane went down, we just had to find a way to win some of the big games."
Rutherford knew that he still had talent in the bullpen at the beginning of the season and expected to pitch by committee in the big games this year. When Derner beat West Springfield during the Bruins' spring break tournament in Orlando and followed it up with an 8-4 win over South County, the junior pitcher became the Bruins' ace.
"That was more like a tryout," said Derner of his first win over the Spartans. "Coach thought that I was fit for the job. It just worked like that."
"We really thought that all of the guys would throw solid for us," said Rutherford. "We didn't expect anybody to come out and be more or less dominant, but he has stepped up and done that."
<b>RUTHERFORD EXPLAINS</b> Derner's pitch arsenal is that of a "standard pitcher," utilizing a fastball, curve ball and change up. Where Derner has excelled this year, however, is in his placement.
"His fastball isn't overpowering, but his location is superb," said Rutherford.
Derner, who pitched against Annandale on Wednesday, is just happy to be able to contribute to the first-place Bruins.
"This is for the team. I have to do my part for the team. I don't hit, so I have to help out the best that I can," he said. "It is pretty amazing. I am really lucky the way that I am pitching."
<b>NOTES:</b> Halley started his first game in the outfield in the Bruins' 11-8 win over South County on April 25. The Bruins are one game up in the Patriot District standings and hold a tiebreaker over South County by sweeping the regular-season series. By beating West Springfield on April 23, the Bruins avoided a sweep by the Spartans.
"It is going to come down to a tie-breaker in the end to find out who is the No. 1 seed and anytime that you hold head-to-head against one of those other teams, you have an advantage," said Rutherford.