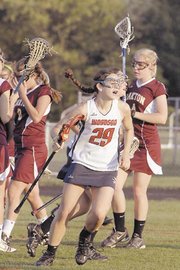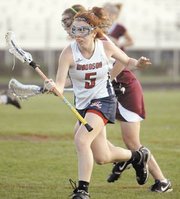 Even Lauren King's nickname, appropriately, needs an assist. "La-King," as she's known to her teammates, is the engine that drives the W.T. Woodson girls' lacrosse team's offense, which has scored 215 goals this season, an average of 14.3 per contest.
As a four-year varsity player, King, a Christopher Newport recruit, possesses the smarts and the stick skills necessary to facilitate such a powerful attack.
"If you ask me who runs our offense, Lauren does," said first-year coach Meaghan O'Leary, who has her team at 12-3. "She's the beat of that offense."
A 50-minute display of King's various talents occurred on Tuesday night, May 12, when W.T. Woodson produced a 19-18 win over Oakton in the first round of the Northern Region tournament. The victory also followed an 11-10 win over Madison the previous Friday, which led to a Liberty District title.
King, using a variety of dodges, spin moves, one-touch passes and lobs into W.T. Woodson's attackers, scored four times against Oakton and assisted on five more scores. Three of her assists were finished by freshman Elena Obregon, who tallied a team-best five goals against the Cougars.
"I feel like if we didn't have Lauren, our offense would fall apart," Obregon said. "We'd still be doing well, but it'd fall apart in some places."
<b>IF W.T. WOODSON'S</b> offense could be likened to an automobile, it's sure not a pickup truck or a van. It's more like a Porsche: capable of moving quickly, piling up numbers before the blink of an eye.
Against Oakton, W.T. Woodson scored eight times before the game was 10 minutes old, and Obregon had her hat trick at the 17:46 mark of the first half.
"I thought the halftime score [14-12] would've been the final score," joked O'Leary, whose team advances to host West Springfield in the quarterfinal round on Thursday night. "It was really exciting. The girls didn't want their season to end."
King and Co. have experienced that feeling each of the past two years when squaring off Oakton in the postseason. The Cavaliers lost to the defending three-time Virginia AAA state champions in the 2007 state title game and also fell to the Cougars in the 2008 region semifinals.
"We played with so much heart," said King, who has 49 goals and 39 assists this spring. "We deserved it, and we weren't going to let Oakton end our season."
<b>THE CAVALIERS</b> never trailed against Oakton, although, as O'Leary would attest, the second half didn't take on that sort of feel. Despite leading by five goals at four separate points during the first 25 minutes, the two teams spent the second half within two goals or less the entire time.
"I hope next game we don't wait until the last two minutes to get the draw controls," O'Leary said. "Draw controls were deadly."
With control, Oakton kept it close, but Obregon changed that off of an assist from King at 9:15. Two and a half minutes later, King took matters into her own hands, scoring unassisted to put the Cavaliers ahead, 18-16.
The win over Oakton rivaled last Friday's Liberty District title game, in which Shelly Montgomery scored with 33 seconds left to secure the victory. Not surprisingly, King played a pivotal role, winning the initial draw.
"I feel like the offense looks to me," King said. "I usually feed the ball in to the attackers, and we work as a team."
"The girls listen to her," O'Leary said. "She's the one who sets up all the plays. She can control the ball. She can pass and score. She can do it all."