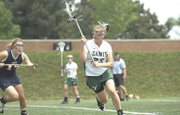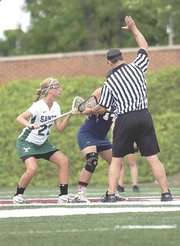 Though the score on the field during last Saturday's VISLA girls' lacrosse state final at Episcopal would have been enough evidence of just how talented St. Stephen's/St. Agnes has become compared to the rest of Virginia's teams, one merely had to listen to the public address announcer there to get a glimpse into the area's lacrosse juggernaut.
It was midway through the second half and the Saints were cruising to an 18-6 victory over Potomac School, their third-straight state title, when over the loudspeaker came results from first-round action in the NCAA women's lacrosse tournament. The ears on the SSSAS bench perked up.
With eight seniors and one junior already slated to play Division-I lacrosse in the next two years, the Saints have a more vested interest in the tournament than most. So when the announcement came that Notre Dame had dropped its quarterfinal matchup with North Carolina, the shoulders of goalie Louise Fauth slumped.
As one of the top netminders in the entire country, she's signed on to join the Fighting Irish in the fall. But every time she or anyone else thinks about the "next level," they already begin to long for their days of dominating the high school scene.
"Any time we start to talk about college, everyone stops," said Fauth, who had 122 total saves this past season. "It kind of hurts to think about the ending."
<b>WHAT THESE SENIORS</b> have accomplished is remarkable, even by SSSAS lacrosse standards. On top of winning all three of the VISLA state tournaments that they've participated in (before 2007, opponents just weren't in their league competitively speaking), the Saints have taken 15 consecutive ISL titles, and had a 60-game winning streak snapped earlier this season. In fact, the program hasn't lost a conference game since 1994.
With all that history, it's jaw dropping that seniors Kelly Austin and Kelsey Horton were able to have record-setting careers. Austin shattered the school record for most goals in a season, tallying 121 for the year after a five-goal, five-assist performance in the state finals. The previous mark was 92 goals. For her career, Austin has 233 goals, an all-time record made even more impressive by the fact that she didn't play freshman year.
With three assists on Saturday, Horton officially earned the honor of having tallied the most points and assists in a single season with 146 points and 99 assists.
"There's definitely a legacy here," said Austin. "And you always want to live up to that."
<b>LIVING UP TO</b> the expectations can sometimes be a tall task, especially for a team as well known as the Saints. They get every team's best shot due to their lofty reputation. According to laxpower.com, SSSAS (25-2) is the fifth-best team in the entire nation.
So it was almost a relief when they lost their first game since March 2007 against McDonogh, currently the No. 3 team in the nation, back on April 18. The Saints' only other defeat came in a May 1 game against Notre Dame Prep.
"It's hard being on top," said coach Kathy Jenkins, adding that she asked a lot of this team with 27 total games and a 10-day spring break trip to face some of the best teams from California. "All season, they worry so much about not losing a game. Once we got through that, the pressure was off."
That sure seemed to be the case against Potomac as SSSAS jumped out to an early 8-1 lead and never looked back. A plethora of players contributed: junior Reilly Woodman had three goals and two assists, senior Ashley Hunter had four goals, senior Charlotte Davis had three goals and an assist, while junior Taelor Salmon chipped in two goals.
Since SSSAS sends so many of its players to the college lacrosse ranks, only "four or five" of the eight future Division-I players started before this season, according to Jenkins. So for now, college can wait. All these Saints want to do is savor all that they've accomplished already.
"I haven't thought about the next level, it hasn't really hit me," said Austin, who is slated to play for Virginia next fall. "We're in denial, it's the end of an era for us."