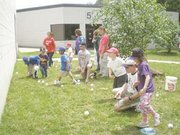 <b>One Lofty Goal Met</b>
Fortunately for West Springfield girls' soccer coach J.T. Alukonis, his place of employment is rather large, with several ways of entering its various parking lots.
When the first-year coach pulls into work, he could take several routes that include a daily reminder of the five Virginia AAA state championships West Springfield has won, with the dates emblazoned in blue, block numerals on the side of the school.
Alukonis has been reminded often of the excellence that surrounds West Springfield's girls' soccer program; whether it's a plaque in the activities office or a conversation with a co-worker, expectations are everywhere.
In the Friday, May 15 Patriot District title game at Lake Braddock Secondary School, West Springfield's past and present collided, as the Spartans (14-1-2) picked up a 1-0 win over South County to claim their third straight district crown.
"It's an honor to be able to coach a team that's been so successful in the past," said Alukonis, whose team topped Mount Vernon, 1-0, in first-round regional play on Tuesday and will face Robinson in quarterfinal action Thursday. "Since I got the job back in November, I've been reminded quite often that we're the best team around."
Against South County, a team West Springfield thumped, 8-0, on April 22, the Spartans received a seemingly accidental contribution from senior midfielder Jessie Gonzalez, who lofted a shot from 45 yards out that snuck into the top of the net seven minutes before the half.
"I was surprised," Gonzalez said. "But it was an awesome feeling. I didn't think I had that in me. I just hit it harder than I thought I was going to."
<b>Patriot Track Roundup</b>
Becca Sinichko and Megan Bumgarner propelled the Lake Braddock girls' outdoor track and field team to a Patriot District title last week at T.C. Williams High School. Sinichko captured the long jump and the 200- and 400-meter dashes, while Bumgarner won both the 100 and 300 hurdles. Lake Braddock scored 176 points, which nearly doubled second-place West Potomac's total of 92. The Bruins also received first-place efforts from Ericka Roberts (100 dash), Liana Epstein (1,600 run) and Becca Shoemaker (pole vault). On the boys' side, Lake Braddock took sixth with a total of 59 points. West Potomac won the Patriot with 103. Matt Hoogland and Michael Santano paced Lake Braddock, securing district titles in the pole vault and 300 hurdles, respectively.
Hayfield's boys' team was third with 86 points and its girls' squad took sixth with 35. Elbert Maxwell was victorious in the high jump, while Tyler Sturgill (discus) and Anthony Williams (110 hurdles) posted wins as well. The girls' 4x100 relay team of Briana Richardson, Lola Ojabowale, Megan Clark and Marquela Brown finished first. Amalya Clayton won the triple jump and the girls' 4x800 relay team (Lauren Blackburn, Alex Watt, Anna Barber and Sara Lepley) was victorious for West Springfield's girls' team, which totaled 65 points to finish fourth.
<b>Edison Sweeps National</b>
With a total of 12 first-place medals, the Edison boys' and girls' outdoor track and field teams swept both National District titles last week on their home track. The girls' team held off Yorktown, 163.33-91, while the boys' team blew past Mount Vernon, 182-110. Domincio Tucker won both the 100-meter and 200-meter dashes, Kyle Spencer took first in the discus and also kicked off the winning boys' 4x100 relay team of Tarikh Cooper, Donnell Epps and Julian Mitchell and Tihut Degfae captured the 800 while also running on a pair of first-place relay teams.
The boys' 4x800 team of Amit Vohra, Issac Anderson, Leoule Degfae and Tihut Degfae finished first, as did the 4x400 squad of David Tran, Leoule Degfae, Tihut Degfae and Justin Jeter, who won the triple jump as well. On the girls' side, Myah Hicks won both the 1,600 and 800. She also anchored the victorious 4x800 relay team of Toni Duvall, Tara Tinsley and Betel Yosef. The 4x400 relay team, which consisted of Ayrielle LeGrande, Kristina Brown, Rebecca Kunkel and Duvall, finished first as well.
<b>Colonials Rule Region</b>
Both the Jefferson boys' and girls' tennis teams captured Northern Region titles last week, with the boys' team defeating three-time Virginia AAA state champion Robinson, 5-4, on Friday, May 15 in a four-hour match at Wakefield High School in Arlington. The girls' team, meanwhile, scored a 5-4 win over Marshall in a match that was started Friday night, suspended because of darkness and finished on Saturday morning.
After six singles matches, the Robinson boys' team led, 4-2, which meant Jefferson had swept the doubles competition to earn the win. Jefferson's No. 3 doubles team won first, 6-2 and 6-4. Then the No. 1 doubles team won, 7-5 and 6-4. Finally, the No. 2 doubles team, which was comprised of the team's two senior co-captains, clinched the victory by winning 6-3, 1-6 and 6-4.
Both Jefferson and Robinson qualify to be two of eight high schools competing for a Virginia AAA state title, and the Colonials will host the Central Region runner-up on May 26 at Mason District Park.
Robinson will travel to play the Central Region champion.
In the girls' match, Jefferson and Marshall were all tied after the six singles players finished, but the doubles matches were pushed to Saturday morning because of the darkness. Jefferson won the No. 1 doubles match and Marshall answered with a No. 2 doubles win. The region title came down to the No. 3 doubles team of Joyce Chung and Stefani Karp, which secured the victory.
The Jefferson girls' team, which placed second in the state last spring, advances to this year's state tournament and will play the Central Region runner-up on May 26 at Mason District Park as well.
<b>Liberty Track Roundup</b>
The Jefferson girls' outdoor track and field team held off Stone Bridge, 140-104, last week on its home track to win a Liberty District title. Lauren Laffosse claimed victory in the pole vault, while Kathryn Moore finished first in the 300-meter hurdles and Sarah Stites won the 3,200. The girls' 4x800 relay team also finished first. On the boys' side, Dan Markwalter took first-place pole vault honors, Timmy Galvin won the 1,600 and Alex Witko captured the 3,200, as the Colonials tied Stone Bridge for second with 96 points. South Lakes finished first with a score of 138 . Jefferson's boys' 4x800 relay team was also victorious.
<b>Concorde Track Roundup</b>
At last week's Concorde District outdoor track and field championships at Westfield High School, the Fairfax boys' team led the way with five first-place finishers. David Ladd won both the 100- and 200-meter dashes while also anchoring the Rebels' first-place 4x100 relay team of Nabil Mezher, Darryl Prescott and Chad Allen. The Fairfax boys' team placed third with 100 points, four less than first-place Oakton. On the girls' side, Frances Dowd of Fairfax posted a pair of wins in the 800 and 1,600 runs. Robinson's girls' team took third with first-place efforts from Genamarie McCant (400 dash) and Caroline Reist (high jump). The girls' 4x400 relay team of Chioma Onyekwere, Molly Kulbaski, Lauren Denham and Elizabeth Roberson placed first as well. The boys' team, devoid of a first-place finisher, claimed fourth with 79 points. The Oakton boys' team was victorious with 105 points.