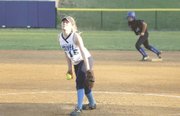 After thrilling district final wins last week, both the Yorktown baseball and softball teams fell victim to the upset bug, losing their first-round regional tournament games last Friday night.
The Yorktown softball team has one bad inning to blame for its season-ending 3-2 loss to West Potomac. The Wolverines scored all three of their runs in the third inning thanks to an error and just plain bad luck.
After an infield error loaded the bases with one out, Patriot pitcher Hannah Bauman struck out the next West Potomac batter and it seemed Yorktown would emerge without any damage done. But a fly ball between the second baseman and right fielder from Jasmine Pucini scored all three runners, who were moving on contact with two outs.
Kimmi Oldham, the usual starting rightfielder and the player behind Yorktown's heroics in the district finals, was out with an ankle injury she suffered in practice.
"It was a ball that should have been caught," said coach Julie Fetter. "I call it the Bermuda Triangle where the ball just drops in."
Despite the disappointing finish, the Patriots should take solace in their undefeated district record and National District title. The 10 graduating seniors were also a part of last year's historic season in which Yorktown set the single-season Virginia state record for runs.
The Patriot baseball team was done in by a hard-hitting T.C. Williams squad, 7-1. The Titans were able to get runs off both Yorktown pitchers, Dean Johnson and Kyle Toulouse. It ended the Patriots record-setting season in which they won 19 games, the most in school history.
On the bright side, it was announced this week that by virtue of his team-leading 1.93 ERA, 93 strikeouts, and .431 batting average, Toulouse, who also played second base, was named All-Region Co-Player of the Year.