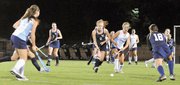 The Washington-Lee field hockey team sports a less-than-stellar 5-8 record. But thanks to Catherine Pricone and others, the Generals are winning the games that count most.
Pricone scored a goal in each of Washington-Lee's last two games — wins over Mount Vernon and Yorktown — as the Generals improved to 4-0 in the National District.
Washington-Lee beat Mount Vernon, 2-1, on Monday. Molly Wolford also scored for the Generals. Washington-Lee coach Beth Prange said the Generals have struggled offensively for most of the season, but did enough to beat the Majors.
Mount Vernon "got an early goal … and then we dominated," she said. "I was happy that even when we didn't play well we could pull it out."
The Generals defeated Yorktown, 4-2, on Thursday. Kelsey Clark scored a pair of goals for Washington-Lee and Raleigh Mills finished with one.
Prange said inexperience is part of the reason for the team's offensive struggles. Her top offensive players — forwards Adrianna Gorsky and Mills, and midfielders Kirby Clark and Sarah Chase-Walsh — are sophomores.
Washington-Lee hosts Edison at 7:30 p.m. today.
<b>W-L Football Wins Again</b>
The Washington-Lee football team defeated Jefferson, 7-0, on Friday for its second consecutive victory. The Generals defeated Falls Church, 23-19, on Sept. 25.
The victories came after Washington-Lee started the season 0-3 while being outscored 114-14.
The Generals host Stuart at 7:30 p.m. Friday.
<b>Babe Ruth Travel Teams Ranked No. 1 in State</b>
After the first five weeks of the fall season of the Old Dominion Baseball League, a league of travel teams that play Sunday doubleheaders throughout Virginia, the Arlington Cal Ripken Babe Ruth-sponsored 10U and 11U teams are the top ranked teams in the state at their respective age levels (ranked by Elite Championship Tournament Baseball). Both travel teams are largely composed of youths who played Babe Ruth All-Star baseball this past summer.
ODBL leagues play on transitional-sized fields — 46-foot mound and 65-foot bases for the 10Us and 50-foot mound and 70-foot bases for the 11Us — as opposed to the 46/60 fields used by Babe Ruth for the younger age groups and by Little League through age 13.
The 10U Arlington Rebels (7-1) defeated the Sterling Xplosion this past Sunday, 11-2 and 16-0. Players for the 10U team are Andrew Simmons, Michael Lowen, Carson Wood, Zack Allen, Brody Karton, Tanner Wall, Elijah Poole, Will Stengle, Tony Burke, Jacob Hardney and Sam Schachter. The 10U team is coached by Ryan Wall, Tom Stengle and Martin Lowen.
The 11U Arlington Rebels (8-0) defeated the Prince William Patriots Sunday, 16-2 and 16-8. Players for the 11U team are Gavin Andersen, Andy Belilos, Chris Brady, Austin Carrol, Andy Collins, Steve Dierkes, Alec Glasser, Ethan Heckler, David Judkins, Jack Karangelen, Jake Karton, Andrew Keane, Nick Rivera, Frank Sammartino and Travis Thein. The 11U team is coached by Elliot Belilos, Gary Karton, Kevin Collins and Matt Heckler.