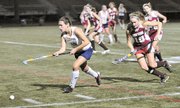 The Washington-Lee field hockey team fired shot after shot toward Mount Vernon goalkeeper Sara Duncan. Numerous corners produced ample opportunities for the Generals.
But when time expired on the National District Tournament championship game, the top seed was left with a goose egg on the scoreboard and disappointment over what could have been.
Mount Vernon defeated Washington-Lee 1-0 Thursday for the National District title. The Generals were on the attack for most of the game, but failed to score.
Mount Vernon's Allie Schray scored the game's lone goal in the first half.
"I think that when they scored in the first two minutes, they came out with a lot of intensity and I think that we didn't come out with as much intensity — and then we just couldn't capitalize on our opportunities," said Washington-Lee senior defender Kelsey Clark, voted the district Player of the Year. "We had so many corners in a row and we couldn't score on a single one."
While Washington-Lee struggled scoring earlier in the season, the Generals increased their offensive output leading to Friday's game. While Washington-Lee controlled the game, its offense sputtered.
"Sometimes you dominate," Washington-Lee coach Beth Prange said, "and you don't get it in."
Mount Vernon coach Jess Hebel praised her goalkeeper Duncan, but also said the Generals played well.
"Our goalkeeper played awesome tonight," Hebel said. "They had a lot of shots on goal — they played a hell of a game."
Four Generals were named first-team all-district: Clark, senior defender Anne Murray, senior midfielder Molly Wolford and senior goalkeeper Mandy Maggio. Washington-Lee also had four second-team members: senior defender Camelia Rubalcava, junior forward Catherine Pricone and senior midfielders Patricia Murray and Margaret Duarte.
Sophomore forwards Adrianna Gorsky, Robin Gordon, Raleigh Mills and sophomore midfielder Emily Gursky received honorable mention accolades for the Generals.