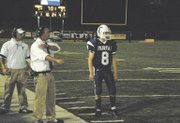 Fairfax High School quarterback Jack Bechert may not get to throw the ball often in the Rebel's run-heavy offense, but when he does, he knows receiver Alex Young is the guy to look for downfield.
"I just always know where [Young] is on the football field," Bechert said. "He always knows where I'm going to put the ball. I give [Young] the ball and he puts up the points."
As standout players on the varsity football and basketball team, the two have developed a knack coming up with big plays.
It's no surprise that when varsity football Head Coach Chris Haddock needed a big play to change momentum during the Rebel's 21-7 Homecoming loss to Madison High School on Oct. 2, he looked to his senior duo to deliver.
The two friends hooked up on a 30-yard pass play that rejuvenated the frustrated Rebels offense. The play then led to the Rebels' lone touchdown in the game, a 25-yard rush by senior Jack Carter.
Despite the loss, Haddock praised his senior quarterback and receiver for their strong performance in a losing effort.
"Jack's had a great season and so has Alex," Haddock said.
"They've both been playing hard. Jack's a great player and a leader who can make clutch plays. Alex is a playmaker. That's the same role he plays [for the basketball team and football team]. He finds ways to make plays."
The chemistry between Young and Bechert isn't a coincidence, but rather the result of four years of friendship and competition.
Since their freshman year, Young, a shooting guard on Fairfax's basketball team, has been point guard Bechert's go-to-guy.
"[Bechert and I] put in a lot of time working out together in the offseason," Young said. "We lift together, throw the ball together and hang out on the weekends."
That offseason work has paid off for the duo.
Bechert has thrown for three touchdowns, all caught by Young, and 441 yards through four games.
Young has accounted for 262 of Bechert's passing yards.
The numbers may not be a big as other pass-oriented teams, but it has given the run-heavy Rebels a deep threat to confound defenses.
"Generally we're not a passing team," Haddock said. "But we've been able to do some things through the air that have helped give us a chance in games. We'd like to control the clock [through running]. When we do throw, we hope guys are open and we can catch the defense off guard."
The Rebels are now 2-3 on the season and 1-1 in Liberty District play, but issues with fumbles and turnovers have hampered the offense's success.
"Last year we barely fumbled at all and this year we seem to be fumbling an awful lot," Haddock said. "It's something we stress in practice and we make a big deal about it.
Sometimes it's a concentration issue, but it's high school football, balls are going to go on the ground occasionally."
Despite the disappointing Homecoming loss, Haddock said he was proud that the team continued to play hard even when the game was out of reach.
"All season long we've fought hard and played four quarters," Haddock said. "If we're going to win games, we need to play from the first snap to the last."
The Rebels continue their season on Friday, Oct. 9 at home against Liberty District rival Stone Bridge High School (5-0).