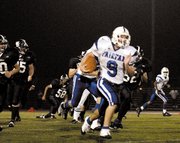 It's been a long time since the Fairfax football program has experienced a little optimism and good news. It's also been a long time since the Rebels' last two-game winning streak.
With a convincing 35-8 win at Washington-Lee last Friday night, Fairfax has now started its season with a 2-1 record for the first time since 2003 and posted its first two-game winning streak since 2004.
A four-game winning streak capped a 5-5 season in 2004, but the Rebels won only four of their next 30 games. Suffice it to say, it's a reputation they'd like to change.
"It feels good. We're real excited," said senior fullback Chris Regensburg, of how it feels to be 2-1. "People at school start acknowledging you a lot more, teachers talk to you, but we have a long way to go. It's only been three games."
<b>THE OFFENSIVE ATTACK</b> started with Regensburg against Washington-Lee. He ran for 207 yards and four touchdowns on 14 carries. Regensburg's four touchdowns came on strictly "fullback plays" but didn't total fullback yards, as the scores measured 6, 38, 52 and 55 yards.
Inside runs — more specifically, traps and leads — generally constitute those fullback yards, and Regensburg, with his low center of gravity and excellent vision, was able to slice his way through the Washington-Lee defense.
Listed at 5-foot-9, 180 pounds, Regensburg
played much bigger than his size against Washington-Lee. Not only did he excel on offense, but the hard-working senior recovered a pair of fumbles while playing on the defensive side of the ball.
"[Regensburg] has steadily grown and gotten bigger and stronger," said Fairfax coach Chris Haddock. "I challenged him last year that he's going to have to really step things up to kind of make a name for himself and he's done that."
In the offseason, after an admitting to "eating McDonald's every other day" prior to his junior season, Regensburg completely changed his diet, exercise routine and outlook on life. It was simple. No more power lifting and no more eating Big Macs. He also upped the cardio and ate more tuna fish.
<b>FROM A TEAM STANDPOINT</b>, Haddock made some changes as well. In the past two years, the coach has instituted a rigorous weightlifting program and enrolled his team in as many camps possible. The coach believes that "confidence is a byproduct of being prepared" and right now he has a team that's both confident and prepared.
The Rebels dropped a 41-6 decision to Woodson in Week 1, but they bounced back nicely with a 26-7 win over Marshall on Sept. 5. With the Marshall win, the Rebels were a bit tentative in the opening half before they let it the fly in the final 24 minutes.
After beating Marshall 26-7, Fairfax carried the bulk of its second-half momentum into the Washington-Lee win when the Rebels exploded for 21 points in the opening quarter — all touchdowns from Regensburg, who ran for 131 yards in the period.
"Before the season, I was talking to my dad and I said, 'If we don't get off to a good start these first few games, everyone's going to be like, 'Aww, it's just another year for Fairfax,'" Regensburg said. "Getting these two wins has given us confidence going into the harder part of the season."
And as just less than 99 percent of all football coaches would say, it's only three games into the season and there's still a long way to go.
"We're 2-1 and right now the kids feel pretty good," said Haddock." But our optimism is a little bit tempered because we have a big game this week against Oakton and we're trying to get ready for that. We know we're going to have to have a big week of practice."