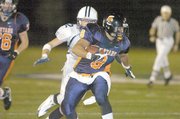 West Springfield High School senior linebacker Joey DeSantis hopes that on Friday night he can reclaim a nickname his team earned during his freshman year.
"We went 4-6 that season, but we called ourselves 'The Homecoming Wreckers,'" DeSantis said. "Three of the games we won were the other school's homecoming games."
Earning that nickname this season might prove to be a sizable challenge as the Spartans take on the South County Secondary School Stallions on Oct. 9, a team that's currently 4-1.
"I look forward to trying to earn that title again," DeSantis said. "South County's got a good squad so we know it's going to be a hard-fought game."
A win against South County wouldn't just give the Spartans' bragging rights for the season, but also momentum as the team moves further into its Patriot District schedule.
The Spartans 3-2 record might suggest the team is a middle-of-the-road squad. But DeSantis is quick to point out the quality of the team's opponents.
"We've had the toughest schedule for our out-of-district games," DeSantis said. "We put up a good fight and came up short, but we'll be ready for [the Patriot District teams]."
West Springfield's two losses have come from two of the Northern Region's best teams, Oakton High School (3-2) and Stone Bridge High School (5-0).
Separating West Springfield from a 5-0 record and the current 3-2 mark, is only four points.
The Spartans lost 35-34 to Oakton in overtime and 36-33 to Stone Bridge.
Despite the disappointing close losses to top tier opponents, the team knows that the lessons from those losses will drive them as the season progresses.
"Each week we made progress," Head Coach J.T. Biddison said. "We just hope to get better each week."
Biddison, who took over the coaching job after Bill Renner left last season, said the players have responded to his coaching style.
"It's calmer on the field," DeSantis said. "[Biddison] really makes it a point to talk to you and teach from your mistakes. It's much different from last year, but I like it."
Although the team has faced disappointing losses early, DeSantis said he's ready to face Patriot District opponents.
"This is the toughest district [in the Northern Region," he said. "It gets at me that we could be 5-0."
The Spartans already are 1-0 this season against Patriot District opponents after opening district play with a 15-14 win against T.C. Williams High School on Oct. 2.
"We had a big turnover early when we were getting ready to score and then they scored," Biddison said. "It put us in a bind, but then we controlled the clock. After that our offense did a great job of holding on to the ball and the defense shut down [T.C. Williams]."
Although the team wants to win its third straight district championship many of the players are taking the season one game at a time.
"The season has gone well so far, but we can do better," senior offensive lineman Kevin Gillespie said. "We have to work harder in practice and know that we'll get better from it."