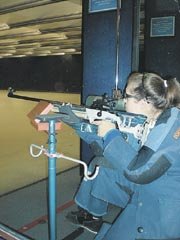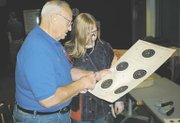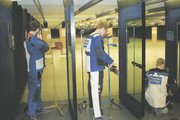 Robinson Secondary School senior and dual-sport athlete Nathan Davison could have used the "I'm too tired" excuse if he wanted to get out of his 6 a.m. practice with the rifle team.
After playing a full game as an offensive lineman for the Rams' varsity football team, who could blame Davison if all he wanted was a Saturday morning's rest?
But while Davison's teammates were sleeping in after their 28-21 victory against Lake Braddock Secondary School, Davison crawled out of bed at 5 a.m. to train in his other athletic commitment.
As a member of the Robinson Rifle Team, Davison meets his teammates and coaches at the National Rifle Association Headquarters in Fairfax each Saturday morning to train for the upcoming season.
"It's very hard to wake up and get out here for practice," the offensive lineman said, yawning in between words. "I want to get better and better [at shooting], so I come out here regardless of how tired I am."
Despite the sleepy haze Davison appears to be in, he awakens and rejuvenates when placed behind the sights of his air rifle.
The senior is an expert marksman and while he's a major part of the Robinson football team, college scouts are more enamored with his shooting ability.
"I'm being looked at by West Point for the rifle team," Davison said. "I want to get better and show improvement each time they talk to me. That's why I can get out here [when I'm tired.]"
Davison isn't alone in battling yawns and the desire to sleep for the chance to practice and earn a scholarship through rifle shooting.
He's just one of 15 marksmen and women on the team.
The rifle team, which has been existence since the school opened in 1971, is one of Robinson's most successful sporting clubs.
The team won the 2009 National Rifle Association Junior Sectional Indoor National Championship last season and many of its members are scholar athletes.
"It's just a good clean, fun activity," said Head Coach Bob Hardy. "We've been successful in competitions and our kids are strong academically."
The rifle team currently has a 206-23 record in smallbore (.22 cal) rifle and a 16-3 record in air rifle competitions.
THE RIFLE TEAM is a winter sport that runs from December to March, but Hardy credits the team's recent national championship title and other accomplishments to the members' commitment to offseason practice.
"The kids come out here and work really hard," the 26-year coaching veteran said. "I'm always impressed by how [passionate] the kids are about the sport."
Passionate might describe the team's enthusiasm for rifle shooting, but participating in the club is expensive.
"We have the blessing of the school," Hardy said. "But we don't have any funding from the county or Robinson."
Hardy said that the team has two club-owned rifles, but those interested in joining the club must be able to provide their own weaponry.
According to Hardy, an air-rifle can cost from $800 to $1,500, and that's if a student is lucky enough to find a used rifle.
The investment climbs higher when one adds in the costs of a shooting jacket and various scopes and sighting equipment.
"It can be $1,500 to $2,500 for everything," Hardy said.
Fortunately, the club doesn't have to pay to practice at the NRA range.
"We practice here on a handshake," Hardy said. "When we lost our old practice spot at Fort Belvoir, I came here and explained our situation. I told them I didn't have any money, but [the NRA] took us in and allows us to use the range during off-hours."
Combined with the rifle team's recent success is the impeccable safety record the team has earned throughout its existence.
"We've never had an injury [involving the guns] and we make sure to teach the kids safety first," Hardy said. "Safety is our No. 1 concern. Before the kids start shooting on the team, they have to go through safety seminars."
Hardy said that club has managed to stay safe by keeping guns unloaded when not in use, strict enforcement of not bringing the rifles to school and proper use of the weaponry to avoid injury.
Despite the team's accomplishments, some misconceptions surround the club.
"People think we twirl guns like a drill team," junior Alanna Linton said. "I tell them that we actually shoot the guns. Then they think that [we're] training to be sniper killers."
Many team members joined out of curiosity about the sport.
"It's a varsity letter and it sounded like a fun activity," senior Raleigh Cunningham said.
Junior Lauren Alman, a team captain, said she enjoys the team's camaraderie.
"I never thought I'd be in [Rifle Club], but I tried a bunch of sports and I felt right on the rifle team." she said. "What makes rifle team so much fun is that it's like a family. We just have fun with each other and we all get along."
The family-bonding isn't just between the students, it also extends to their coach.
"I love these kids like they are my [platoon members] when I was in the Army," Hardy, a retired lieutenant colonel, said. "It's always a pleasure to wake up and shoot with the team."