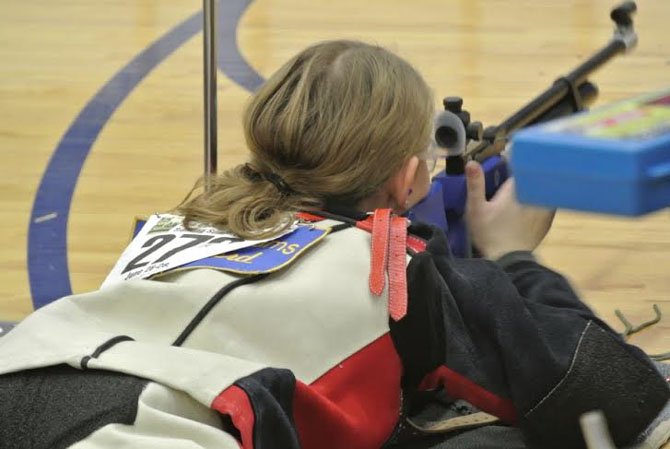 Q: How long have you been competing on Robinson's rifle team?
A: Since freshman year. It's a big team. There are currently 52 people on it.
Q: Is it a popular sport at Robinson?
A: It's more popular in Northern Virginia, but I wouldn't say in the school, because not many people knew about it until two years ago.
Q: How did you qualify for the Junior Olympics?
A: We went up to Annapolis and had a Junior Olympics qualifier, where we shoot both smallbore and air rifle, and I only qualified for air rifle.
Q: Are you excited?
A: It's nerve-racking. But I'm just excited to be able to participate. So many collegiate shooters come to it also.
Q: Is there anyone else from your school going with you?
A: There is a sophomore, Zach Eisenberg, which is so exciting because he is just a sophomore.
Q: How often does your team practice per week?
A: Typically, the team practices twice per week. It's kind of hard getting rifle range time. I've been trying to practice more at home because I have a range down in my basement, so that makes it a little bit easier. My mom and I promised that I would do at least four hours a week at home, because I tend to be a little bit lazy.
Q: Why did you decide to first join the Rifle team?
A: I'm not athletic, and my dad told me I had to join a sport. There was either basketball or rifle, so I chose rifle.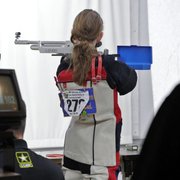 Q: You didn't want to try basketball?
A: I'm the most un-athletic person you will ever find. I thought, I don't have to run, or exercise? But I do.
Q: So you still have to exercise if you're on the rifle team?
A: Yeah, because even though you stand still or lay down, you kind of kneel, and you still have to have core back muscles. Standing for 30 to 40 minutes is not very good for your back.
Q: Are there a lot of girls in the sport?
A: There used to be very few girls. Even though we only have about six girls on the team right now, of the top six, three of them are girls.
Q: Are your friends and classmates aware of the rifle team?
A: They kind of ignore rifle team. It's not such a popular sport, it's not fun to watch because it can be a bit boring. I know a lot of my friends get excited, like when they heard Robinson won regionals or found out I was going to the Junior Olympics.
Q: Are you looking to join a rifle team in college?
A: Yeah, I'm trying to shoot collegiately. It's a bit more competitive.
Q: Are any of your siblings interested in rifle?
A: My one older sister likes to do archery. They shoot, but not competitively.
Q: Is it hard to balance school with the preparation for the Junior Olympics?
A: I'm really happy that the Junior Olympics are during my spring break so I'm not missing school or anything. But it can be nerve-racking.